Megyn Kelly's Alex Jones Interview Draws Smallest Audience Yet
By
Episode tops '60 Minutes' but falls short of previous episodes

Interview wasn't shown in Connecticut because of Jones's views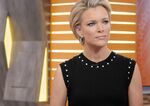 Megyn Kelly's highly-anticipated interview with radio host and provocateur Alex Jones drew 3.5 million viewers Sunday night, the smallest audience since her debut on NBC.
The interview was preceded by a week of controversy. Critics argued that NBC shouldn't be giving a platform to Jones, who is known for promoting conspiracy theories such as his claim that the 2012 shooting at Sandy Hook Elementary School in Newtown, Connecticut, was a hoax created to promote gun-control policies. JPMorgan Chase & Co. asked to remove its local and digital ads from the episode and the interview didn't air on Connecticut's NBC station in deference to the families affected by the nearby Sandy Hook shooting.
NBC and Kelly responded that viewers should know more about Jones because of his influence with President Donald Trump, who has praised the radio host. NBC said the interview wouldn't give Jones an unfettered platform to express his controversial views. Kelly was widely praised on Twitter after the interview aired for being tough on Jones.
Her interview edged out a rerun of CBS's "60 Minutes" by 3 percent among viewers 25 to 54 years old, the key demographic for advertisers, according to Nielsen ratings provided by NBC. The episode on Sunday also competed with the final round of the U.S. Open golf tournament on Fox and an episode of "America's Funniest Home Videos" on ABC.
Kelly, a former star anchor at Rupert Murdoch's conservative-leaning Fox News, was signed with much fanfare by Comcast Corp.'s NBC earlier this year. In addition to her Sunday night program, she's set to start a morning show as well, details of which haven't been announced yet. Her debut earlier this month, featuring an interview with Russian President Vladimir Putin, drew 6.2 million viewers. Her second episode on June 11 drew 3.6 million viewers.
NBC News and MSNBC Chairman Andrew Lack was quoted recently in Variety as saying Kelly's shows will take some time to catch on with viewers.
"It's not going to be perfect on Day One, and we're not going to be in first place on Day Two, but I'd rather be holding our cards than anyone else's," Lack said.
Before it's here, it's on the Bloomberg Terminal.
LEARN MORE