May Goes to Brexit and Beyond With Plan to Take U.K. Into Space
By
Queen's speech will include bill to allow rocket launches

Other bills will cover high-speed rail and electric cars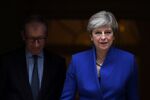 Follow @Brexit for all the latest news, and sign up to our daily Brexit Bulletin newsletter.
Britain may not yet have a plan to leave the European Union. But it does have a plan to get to outer space.
Space rockets will be launched from British soil for the first time under plans to be announced by Prime Minister Theresa May this week as she tries to show that she can get things done despite losing her Parliamentary majority in this month's election.
The government's legislative program will be announced to Parliament by Queen Elizabeth II on Wednesday. It's likely to focus on Brexit, with bills so complicated that ministers have announced an unusual two-year session, to give themselves time to get them through. Among the other measures will be three transport infrastructure bills, covering high-speed rail, electric cars -- and the space industry.
The rail bill will enable the continuation of Britain's second high-speed line up to the north west of England. The electric car bill will simplify the use of charging points, to encourage take-up. And the space bill will allow the construction of spaceports, and the launch of missions from Britain. All are measures that the government is likely to be able to get through Parliament even without a majority.
"The measures we outline this week will ensure our legal structures are ready for the high skill, highly paid jobs of the future, while backing the transport projects that will make journeys better for ordinary working people," Transport Secretary Chris Grayling said in an emailed statement.
Before it's here, it's on the Bloomberg Terminal.
LEARN MORE