Macron's Ministers Meet French Executives as Stocks Soar
By
President still to set out his plans for selling stakes

France's state holdings have jumped since Macron's election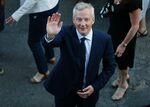 Emmanuel Macron's ministers are meeting with companies in which the French state holds major stakes as the president considers possible divestments.
Finance Minister Bruno Le Maire is seeing Orange SA Chief Executive Officer Stephane Richard at 10 a.m. Tuesday in Paris, an hour later he'll sit down with Electricite de France SA CEO Jean-Bernard Levy and on Thursday he'll meet with Philippe Varin, chairman of embattled nuclear-energy company Areva SA. Budget Minister Gerald Darmanin has scheduled time with the gambling companies FDJ and PMU after talks last week with state lender Caisse des Depots et Consignations.
Press officers for both ministers declined to comment on the purpose of the meetings or their plans for the state's shareholding.
While Macron, a former investment banker, has signaled he's inclined to reduce the government's holdings over time, he's yet to give any details. When he was economy minister in Francois Hollande's administration through 2016, he said the role of the three entities managing the state's holdings should be clarified, the portfolio should be more rigorously focused on strategic assets, and the government should be ready to buy and sell stock more frequently to achieve its goals.
"Some of my predecessors believed the state has no role to play," Macron, 39, said in a newspaper interview in February last year. "I believe in an industrial policy, but in a realistic, lucid and long-term way."

Since taking up his post last month, Le Maire has spoken regularly with Martin Vial, head of the state holding agency, and has had one face-to-face with the head of La Poste, the state-owned mail company.
The French state holds directly or indirectly about 100 billion euros ($112 billion) worth of equity in about 1,750 companies, including in dozens of publicly traded ones. Though Macron may not have offered much guidance to investors, they've welcomed his election all the same.
Aeroport de Paris gained nearly 22 percent since Macron topped the first round of voting in the presidential election on April 23. Air France-KLM added 48 percent, Airbus is up 7 percent and EDF gained 36 percent. Areva is the only company in the state portfolio that fell, losing 0.9 percent.
"Our country has become totally attractive again," Total SA Chairman Patrick Pouyanne said in an interview with Euronews published Monday. "This election constitutes a leap into modernity."

Still, the National Auditor said in January that the state "is both too present in the management and doesn't provide enough vigilance as a shareholder." It recommended strictly limiting capital injections to help state-controlled firms. Darmanin, the budget minister, met with the auditor last week.
One option for the government is to push for changes in the management teams at the companies where it holds stakes.
Pierre-Rene Lemas may be removed as CEO of state lender CDC, the Journal du Dimanche reported Sunday, with Nicolas Dufourcq, head of the state investment bank Bpifrance, lined up as a possible replacement. Lemas met with Macron on May 31 and with Prime Minister Edouard Philippe on June 8. Dufourcq has an appointment with Environment Minister Nicolas Hulot on Wednesday.
— With assistance by Fabio Benedetti Valentini, and Francois De Beaupuy
Before it's here, it's on the Bloomberg Terminal.
LEARN MORE