Less Stressful Tests Seen Boosting U.S. Bank Payouts $30 Billion
By
Analysts estimate BofA could return 63% more to shareholders

Fed to release 2017 results in two stages this week and next
The stress of stress tests may be over. At least for now.
After seven annual exercises in which at least one U.S. bank failed, all of the nation's 34 largest lenders will probably pass this year's Federal Reserve exam when results are revealed this week and next. That's because the toughest component of the analysis of how firms would fare during a hypothetical crisis, the so-called qualitative review, no longer applies to the majority of those being tested.
The easing pressure will allow banks including Bank of America Corp. and Citigroup Inc., which struggled with the tests in early years, to put about $30 billion more cash in shareholders' pockets, according to analysts' estimates.
"If there's a year everybody passes, this will be the year," said Michael Alix, a partner at PricewaterhouseCoopers LLP and a former Fed official. "The biggest firms have gotten attuned to the demands of the qualitative portion."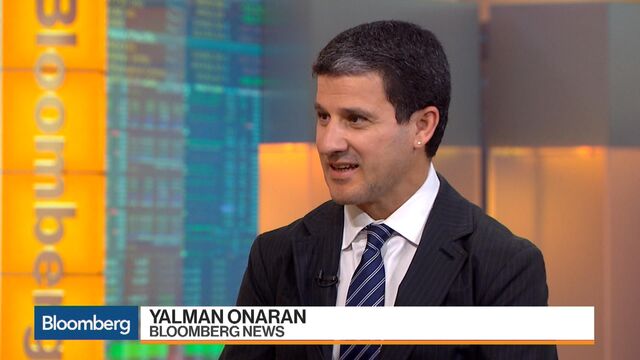 Bigger Payouts
The failures are disappearing and payouts rising because banks have gotten the hang of the tests and raised capital ratios way above required minimums. They're also counting on a relaxation of rules that will shift the balance of power from regulators to shareholders.
While the proposal to excuse mid-size banks from the qualitative review was made last year, more easing is expected as President Donald Trump appoints new industry-friendly board members to the Fed. Last week, Treasury Secretary Steven Mnuchin recommended that stress tests be performed every other year and that banks maintaining a sufficiently high level of capital be exempt from exams.
The banks being tested will return $121 billion to shareholders in the form of dividends and share buybacks over the next four quarters, or about 85 percent of their profit, up from about 75 percent in the previous four quarters, according to the average of analysts' estimates compiled by Bloomberg.

Among the six biggest banks, Bank of America might see the steepest jump in payouts, according to estimates by Keefe, Bruyette & Woods, UBS Group AG and Morgan Stanley. The firm's net cash return to shareholders is expected to be about $16 billion over the next four quarters, 63 percent more than in the previous four, the estimates show. Citigroup may pay out more than 100 percent of its profit in the next four quarters, as it tries to catch up to peers after distributing relatively less for several years.
Wells Fargo & Co. is the wild card, the one U.S. bank that might fail the qualitative section, analysts at Morgan Stanley and UBS said in reports this month. The Fed could find the bank's control mechanisms insufficient in light of revelations last year that employees may have opened millions of accounts without customer authorization. The sales-practices scandal has already claimed a chief executive officer, led to regulatory fines and triggered an investigation by the Justice Department. Wells Fargo is among the 13 banks still subject to the qualitative analysis.
Spokesmen for Wells Fargo, Citigroup and Bank of America declined to comment, as did a spokesman for the Fed.
Two Stages
The Fed will release results of the tests in two stages. The first, the quantitative part on June 22, will show the impact of hypothetical scenarios on banks' capital levels. On June 28, the Fed will say whether any firm failed because of either insufficient capital or on qualitative grounds, which includes risk management, data collection and other processes. Banks that pass the tests will begin announcing their dividend and buyback plans soon after.
Read more: How stress tests restore faith in banks - a QuickTake explainer
Before the 2008 financial crisis, equity accounted for 3 percent of the biggest banks' total liabilities. Now it's about 7 percent. The increase in capital happened as requirements were jacked up globally to correct the weaknesses that led to the crisis. The Fed used the stress tests to restrict dividends to help banks build up buffers for potential losses.
Even so, stress-test failures might be back next year, when the U.S. operations of the largest European lenders will be tested comprehensively for the first time. In the past, some units were included, but most of the largest broker-dealer businesses weren't.
Deutsche Bank AG's New York-based trust bank, which failed two years in a row, is exempt from the qualitative exam this year as its assets are below the $250 billion threshold. All U.S. operations of the German bank will be tested next year after the Fed required the largest foreign lenders to consolidate all assets in the country under an umbrella structure starting last July. 
Mock Tests
About half a dozen European firms spent billions of dollars in recent years to meet the new structural requirements, the biggest portion of the money going into systems that would make them ready for the stress tests. The new entities are vulnerable, as it took their U.S. counterparts several years before they adjusted to the Fed's demands, PwC's Alix said.
Deutsche Bank, UBS, Barclays Plc, Credit Suisse Group AG and Royal Bank of Canada are taking part in a mock stress test this year. Results won't be publicly revealed. The five banks will be subject to the qualitative as well as the quantitative test next year if their U.S. broker-dealer units have assets greater than $75 billion, even if their total assets in the country fall below $250 billion. BNP Paribas SA, which also consolidated its U.S. operations under the new rules and is taking the mock test, will probably avoid the qualitative exam because its brokerage business is too small.
Deutsche Bank's trust-bank unit and Banco Santander SA's U.S. business were the only ones that failed last year on qualitative standards. Santander is exempt from that section of the exam this year because its total U.S. assets fall below the $250 billion threshold and its brokerage operations in the country are insignificant.
Economic Scenarios
The quantitative section uses distressed economic scenarios that the Fed sets every year to estimate how much each bank would lose under such conditions and whether it has enough capital to cope with those losses. This year's scenario is based on a five-quarter recession where output declines as much as 7.5 percent, unemployment surges to 10 percent and house prices drop by 25 percent.
Bank Stress Tests — Sometimes Credible, Sometimes Not: QuickTake
Banks have complained that the Fed's calculations are a black box, making it difficult for the firms to know whether they're allocating capital to the right businesses. Jerome Powell, who became the governor in charge of supervision after the departure of Daniel Tarullo this year, said on June 1 that the central bank will provide more transparency in the future.
New appointments to fill empty Fed board seats, including a vice chairman of supervision, are expected to lead to partial easing of stress-test requirements in coming years, according to David Wright, another former Fed supervisor. The easing started under Tarullo, who exempted 21 mid-size banks from the qualitative portion and talked about further potential measures to relax the pressure during the tests.
"Is this the last year for the qualitative reviews?" asked Wright, now a managing director at Deloitte's advisory business. "Even Tarullo, before leaving, opened the door to getting rid of them. So things might get a little easier for banks, but don't expect them to be thrown out the door completely. There will still be enough Fed board members in favor of strict bank supervision for a while longer."
While easier tests allow banks to return more capital to shareholders, that isn't necessarily a good omen, Saul Martinez, a UBS analyst, wrote in a note this month. As loan growth slows, banks may be struggling to find ways to create new business opportunities.
"Returning excess capital does not inherently create value," Martinez wrote. "High capital returns largely reflect an inability to deploy capital at attractive risk-adjusted returns."
Quotes from this Article
Before it's here, it's on the Bloomberg Terminal.
LEARN MORE