Charted
Is Sugar the New Tobacco?
A sale of the Butterfinger and Baby Ruth franchise will decide.
By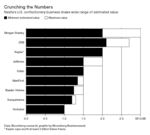 What's a candy franchise worth in an era when sugar has turned into a public enemy? We're about to find out. Swiss food giant Nestle has put up for sale its U.S. business that makes the Butterfinger and Baby Ruth bars. Bankers say the unit is worth anywhere from 1 billion Swiss francs ($1 billion) to 3 billion francs. That wide range reflects division over this central question: some analysts see sugar as the tobacco of the 21st century, while optimists point to the unit's well-known brands. Chief Executive Mark Schneider, whose background is in health care, is letting go of the business in his first big shakeup of the company as it wrestles with the slow growth of packaged foods. Kraft Heinz's unsuccessful bid for Unilever earlier this year showed that anyone could become a target.
Before it's here, it's on the Bloomberg Terminal.
LEARN MORE