French Equity Winners and Losers as Macron Strengthens His Hand
By and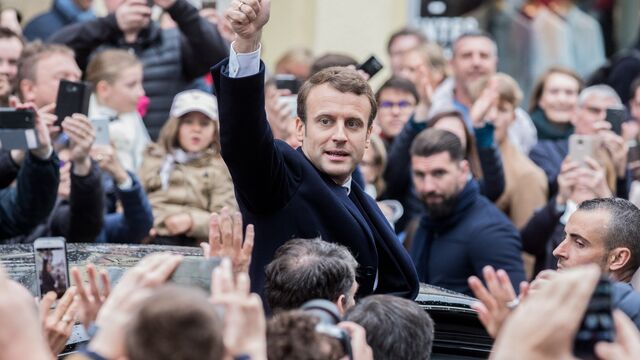 When it comes to France, investors are moving their bets from winners of the election to winners of the stock market.
With a parliamentary victory over the weekend cementing President Emmanuel Macron's electoral triumph, the benchmark CAC 40 Index is leading gains among euro-area benchmarks on Monday. The biggest majority in 15 years for Macron's party and allies in the National Assembly enables him to carry out his program of liberalizing France's labor market and pushing for closer European integration. Also helping equities are strengthening signs of recovery in the economy.
In the two months since the first round of the French presidential election signaled a win for Macron, the CAC 40 has outperformed the broader Stoxx Europe 600 Index. Stocks including Electricite de France SA and Air France-KLM have been among the biggest beneficiaries, up more than 35 percent.

Here's a round-up of French equities that stand to gain or lose under Macron:
WINNERS:
Domestic Stocks
Stocks of companies most exposed to the local economy, including construction, infrastructure and banks, are likely to be the biggest beneficiaries of Macron's reforms , according to a note by Allianz Global Investors on Monday. The president has proposed changing the wealth tax so that it would target only properties and not capital investment, and applying a 30 percent flat rate on capital income.
"French banks are winners," Guillermo Hernandez Sampere, head of trading at MPPM EK in Eppstein, Germany, said in emailed comments. "No more Marine Le Pen risk, so no euro-exit debate. Less tax on capital investments would lead to more equity investments and higher trading volume."
Automakers
Firms like Renault SA and Peugeot parent PSA Group would benefit from cheaper labor, Hernandez Sampere said. Moreover, there is a greater likelihood of the government selling a stake in Renault under Macron, according to Evercore ISI. Such a move would be good for the carmaker as it paves the way for a more efficient, balanced holding by Nissan Motor Co., in which Renault also has a stake, the brokerage said in late April.
EDF and Renewable Energy
Even after stellar gains since April, the rally in EDF has more to go, according to JPMorgan Chase & Co. Analysts at the bank reiterated their overweight rating and boosted the target price on Friday, saying its earnings will benefit from Macron's push to establish a common price floor for carbon dioxide emitted by power utilities.
"The new president will be both pragmatic and supportive and we still expect a CO2 floor," they said. "This should further improve sentiment and bring additional upside to EDF's story."
Macron has also proposed more investment in renewable energy. Stocks in the industry group include wind-turbine makers Vestas Wind Systems A/S and Nordex SE, as well as power companies EDP Renovaveis SA and Engie SA.
LOSERS:
Exporters
Companies like Airbus SE, L'Oreal SA and LVMH that derive a large portion of their sales from abroad would miss out on benefits from lower corporate taxes in France, Hernandez Sampere said. The firms, which are some of the biggest in the CAC 40, may also see overseas profits shrunk by a stronger euro.

Insurers
In the run-up to the second round of the French presidential vote, Societe Generale noted that Macron's proposals to include new life insurance contracts in his capital gains tax would curb sales of such products. The immediate impact on earnings would be limited as insurers are now focused on other offerings, the bank said.
Before it's here, it's on the Bloomberg Terminal.
LEARN MORE