Billionaire John Paulson Joins Valeant's Board of Directors
By and
Drugmaker rises 6.4% after hedge fund manager's appointment

Paulson became largest holder after Ackman left in March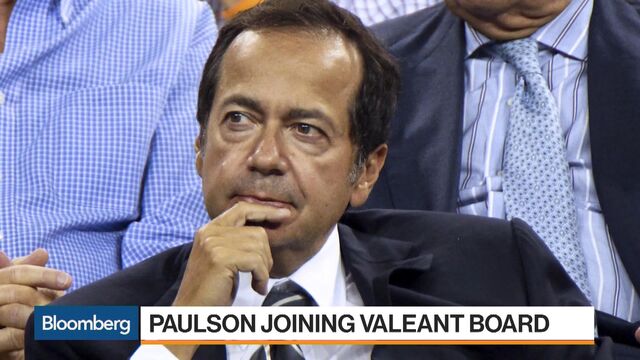 Billionaire hedge-fund manager John Paulson bought into Valeant Pharmaceuticals International Inc. stock on its way to the top. Now, he's trying to help push it off the bottom.
Paulson will join the board after the noisy exit of another high-profile investor: onetime backer Bill Ackman. The appointment of Paulson, whose firm became Valeant's biggest shareholder after Ackman bailed out in March, could help comfort shareholders that he's sticking with the drugmaker while it tries to rebuild itself after high-profile scandals.
The stock rose 6.4 percent to close at $13.47 in New York Monday -- still a fraction of where it traded when Paulson & Co. reported its first purchase three years ago.
Getting a seat on the board gives Paulson a firmer hand on one of his most troublesome holdings, and some influence over the turnaround undertaken by Chief Executive Officer Joseph Papa, who has started selling a few assets to chip away at the debt. Although the shares have bounced back from recent lows in the past months, they are still down more than 80 percent from their 2015 peak, after Valeant became embroiled in accounting probes and drug pricing outrage. Paulson's first investment dates back to the first quarter of 2014, according filings, at a time when the drugmaker was a Wall Street darling and traded at an average of more than $130.
Paulson shot to fame betting on the collapse of the U.S. housing market in 2007. A decade later, the hedge-fund manager is struggling to persuade investors to stay with him after a string of missteps on assets including gold and drug stocks. The firm's primary merger arbitrage strategy fell 25 percent last year. But unlike Ackman, Paulson has been sticking with his bets on pharmaceutical companies so far: In a May letter to investors of one of its funds, Paulson said his firm still believes in Valeant's "core value."
"The stock has been all but abandoned at this point," said David Tawil, the founder of Maglan Capital LP, a New York-based hedge fund that specializes in corporate strategies. There is a "fair amount of financial engineering" that could be done at Valeant, a company that was built through acquisitions and lots of debt, he said.
"If they could retrace a considerable amount of that loss, it would be a big winner for Paulson," Tawil said.
It will be a challenge. Paulson's latest significant Valeant transaction came during the second quarter of 2016, when the shares were still trading in the high 20s. He raised Paulson & Co.'s stake to about 19 million shares at the time, and the holding has remained at that level since, give or take slight fluctuations in the past year.
Sign of Frustration?
Paulson became director on June 14, bringing the number of members to 11, Valeant, which has its legal headquarters in Laval, Quebec, and is run from New Jersey, said Monday in a statement. Armel Leslie, an outside spokesman for Paulson who works for Peppercom, declined to comment.
Even after Ackman's departure -- the hedge fund manager called his investment a "huge mistake" -- Paulson won't be the only big investor on the board. Robert Hale, a partner with hedge fund ValueAct, has been a director since August 2015. ValueAct boosted its stake to more than 5 percent recently, and remains among the biggest holders after first investing in mid-2006 in what was then a small experimental-drug developer.
Valeant CEO Papa has agreed to sell units worth about $5 billion combined this year so far to help reduce the massive debt and refocus the business.
Jeff Jonas, a portfolio manager at Gabelli & Co., isn't expecting much change in the strategy after Paulson's appointment.
"They already have the right strategy that he seems to agree with," Jonas said in an interview with Bloomberg Television. "Really they're making the best they can out of a bad situation."

David Maris, an analyst at Wells Fargo and a longtime critic of Valeant, viewed the new appointment with skepticism.
"It could be a sign that a major holder is frustrated with the pace and direction of change," Maris, who rates the shares underperform, said in a note to investors. "We do not know what new domain experience that Paulson brings to Valeant's board that was not already present, especially with ValueAct already on the board."
Paulson is joining Valeant while winding down his role as a director at American International Group Inc. Paulson was elected last year to the insurer's board after proposing that then-Chief Executive Officer Peter Hancock split the company into three separate businesses. Paulson's fund sold AIG shares while he was on the board, and AIG has since replaced Hancock with Brian Duperreault. AIG said in April that Paulson wouldn't stand for reelection "due to his other time commitments."
AIG shares have underperformed the S&P 500 Index since Feb. 11, 2016, the day the insurer announced that Paulson and an ally of fellow activist Carl Icahn would join its board. They've gained 26 percent through Friday's close, while the S&P 500 rose 33 percent.
Paulson's firm has about about $10 billion in assets, just $2 billion of which is outside capital, according to its most recent regulatory filing. Most of the remaining $8 billion is Paulson's own fortune. Paulson founded it in 1994. At its peak in 2011, the firm oversaw $38 billion.
"With his significant business and financial expertise, John will be a strong addition to the board," Valeant CEO Papa said in the statement Monday. "His experience will be especially valuable as we continue to execute on our transformational strategy to turnaround Valeant."
— With assistance by Katherine Chiglinsky, and Justin Mattingly
Quotes from this Article
Before it's here, it's on the Bloomberg Terminal.
LEARN MORE