technology
As Tech Rallies, Goldman Says Don't Bank on FAAMG Stock Returns
By
Firm says low volatility favors high Sharpe ratio stocks

Amazon, Facebook, Google, Apple and Microsoft out of basket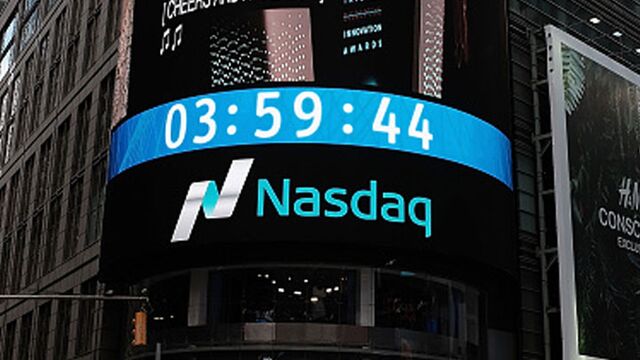 Buying the dip in big tech stocks? You might want to think again.
Goldman Sachs Inc. is telling clients that the current bought of low volatility favors stocks with prospectively higher Sharpe ratios, which is a measure of risk-adjusted performance. And the firm has excluded so-called FAAMG -- Facebook Inc., Amazon.com Inc., Apple Inc., Microsoft Corp. and Google parent Alphabet Inc. -- from its new basket of stocks with the best risk versus reward.
So far, the market isn't paying attention. The Nasdaq 100 and Nasdaq Composite indexes are up more than 1 percent, with Apple and Google leading FAAMG with gains of around 2 percent.
"U.S. equity market volatility is at near-record lows and the term structure suggests volatility will remain below its historical average in the second half of the year," analysts led by chief U.S. equity Strategist David Kostin wrote in a note dated June 16. "To maximize risk-adjusted returns in this environment, we recommend our newly rebalanced basket of stocks with the highest prospective Sharpe ratios instead of a minimum-realized volatility strategy."
The basket tends to outperform when volatility is low, delivering higher risk-adjusted returns than both the S&P 500 and stocks with the lowest realized volatility more than 55 percent of the time since 1999. Year-to-date, Goldman's high Sharpe ratio basket is up 12 percent while the S&P 500 Index is up 8.7 percent.

Many of these names have seen massive gains this year despite declines of as much as 7 percent sine June 8, with Amazon and Facebook still up more than 30 percent since the start of 2017. However, analysts say the declines are due to profit-taking and crowded positions, and there is room for the tech stocks to rebound. But some also don't expect the volatility to subside in the near term, which could be troubling if that volatility comes in the form of more profit-taking.
Goldman said this argument only holds if broader volatility remains low, but that it sees no reason for that to change in the near future.
"Looking forward, the current implied volatility term structure suggests that S&P 500 volatility from one month through five years in the future will remain below its historical average," they wrote.
For more on the global tech industry, check out the Decrypted podcast:
Before it's here, it's on the Bloomberg Terminal.
LEARN MORE