Abe Strikes Apologetic Tone as Cronyism Scandal Hits Support
By
Approval rating drops most since Abe took office in 2012

LDP lawmakers criticize Abenomics in latest sign of dissent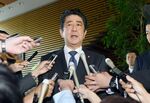 Japanese Prime Minister Shinzo Abe struck an apologetic tone at a news conference Monday as he expressed his regret that a cronyism scandal had eaten into parliamentary debate on policy and triggered public mistrust in his government.
Abe said that the opposition's focus on the question of his possible intervention in the government's approval of a school run by one of his close associates took up too much time in the current parliament session. The premier said he would fulfill his responsibility to explain the issue.
"I feel the public deserve an apology," Abe said. "This session of parliament, far from having constructive debate, was dominated by mutual recriminations. A great deal of discussion time was taken up with matters that are unrelated to policy."
His remarks at a briefing in Tokyo to mark the end of the Diet session came after support for his cabinet tumbled 12 percentage points to 49 percent, according to a poll conducted by the Yomiuri newspaper over the weekend. That was the lowest figure in a year and the biggest drop since he took office in 2012. A raft of other surveys also found substantial slides, with a Mainichi newspaper survey showing his approval rate at 36 percent, lower than the disapproval level of 44 percent.
After repeated denials, government documents emerged last week pointing to his office's possible involvement in favors given to a close Abe associate who was opening a veterinary college in a special economic zone. His coalition also pushed through legislation that expands government surveillance powers, sparking criticism that his party cut short the latest parliamentary session to avoid further questions over the school scandal.

While the scandal has hurt Abe, he doesn't appear to be at risk of resigning, and the main opposition Democratic Party has gained little from his decline in popularity. Still, it may prompt him to avoid calling an early election that had seemed likely only a few months ago.
'Very Nervous'
"The Prime Minister's Office is very nervous about this, and it will be a substantial blow, but there is no clear illegality" regarding the school, said Yu Uchiyama, a professor of political science at the University of Tokyo. "So Abe won't resign over it. In terms of the electoral effect, he will want to wait until his reputation has recovered, so he is unlikely to call an election this year."
The prime minister's biggest challenge may come from his own camp as rivals prepare for a party leadership election in autumn 2018. Even before the latest polls, rare criticism had begun to emerge from within his long-ruling LDP.
The party faces a stern test in a Tokyo assembly election early next month. The capital's popular governor, Yuriko Koike, has established her own political group and is expected to take seats from Abe's ruling party.
The latest Abe scandal revolves around the approval of a plan to establish the Kake Gakuen veterinary college on the island of Shikoku. The local government offered Abe's associate a free plot of land for the project, ostensibly on the basis that the college would bolster the local economy.
The public furor marks the second time Abe has faced accusations over links to an educational institution this year. In both cases, he has denied any wrongdoing.
'Abenomics' Questioned
The involvement of a special economic zone in the scandal could begin to undermine public backing for the "Abenomics" policies that have kept the cabinet's support relatively steady for more than four years, according to Katsutoshi Inadome, senior fixed income strategist at Mitsubishi UFJ Morgan Stanley Securities Co.
The raft of negative polls for Abe did little to sway markets Monday. The benchmark Topix index rose 0.6 percent, with a weaker yen supporting Japanese equities.
The need to win back public support before the next general election could also prompt Abe to emphasize fiscal spending, including on education, Hiroshi Ugai, chief economist at JPMorgan Securities Japan Co., said in an e-mailed research note. Abe is preparing to announce a new panel looking into extra funding for education at his press conference Monday, broadcaster TBS reported.
About 40 LDP lawmakers attended the second meeting of an anti-Abenomics group last week, at which they criticized the administration for relying on a cheap yen and low oil prices to bolster the economy.
One of them, former defense minister Gen Nakatani, is also reported to have criticized Abe over the school scandal in a radio interview earlier this month. Shigeru Ishiba, who stood against Abe for the leadership of the party in 2012, has questioned Abe's plans to change the postwar pacifist constitution and last week said an opponent of his policies should run against him in the leadership race.
Even a member of the current cabinet, Foreign Minister Fumio Kishida, said last month he saw no need to change the constitution for the moment, in contradiction of Abe's plans to do so by 2020.
Not Convinced
Seventy percent of respondents to the Yomiuri poll said they were not convinced by the government's insistence that it had followed correct procedures in the establishment of the veterinary college. More than 41 percent said they didn't support Abe's cabinet, and of those, 48 percent cited distrust of its members as the reason. More than 60 percent said they disapproved of the government's handling of the anti-conspiracy bill.
Abe, the third-longest serving premier since World War II, previously served a scandal-ridden one-year term in office. He resigned in poor health in 2007, only to make a surprise return as party leader five years later. The LDP changed its rules this year to allow him a third consecutive term as party leader, which would take him through to 2021 if he wins the election.
— With assistance by Yuki Hagiwara, Hidenori Yamanaka, and James Mayger
Before it's here, it's on the Bloomberg Terminal.
LEARN MORE