'Dangerous Situation' for Hong Kong Property Market, Says Finance Chief
By
Finance chief says no one can tell how deep adjustment will be

Financial system resilient, can withstand correction: Chan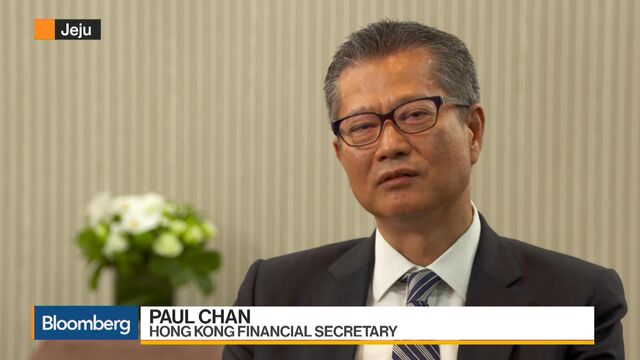 Hong Kong's property market is in a dangerous situation and vulnerable to a correction, Financial Secretary Paul Chan said in an interview.
The warning comes as rate hikes by the U.S. Federal Reserve send borrowing costs higher in Hong Kong, given the city imports U.S. monetary policy due to its currency peg. The Hong Kong Monetary Authority last week boosted borrowing costs by 25 basis points to 1.5 percent after the Fed raised its target range by the same amount.
"That's why we have to warn our people about the dangerous situation of the property market at the moment," Chan said in a Bloomberg Television interview with Haslinda Amin.  
Chan, who was appointed finance secretary in January, said he is concerned about a correction in Hong Kong, the world's priciest housing market. "No one can tell how deep the adjustment will be or what is the appropriate level of adjustment."
At the same time, Chan also talked up the strength of Hong Kong's financial system, which he said can withstand any steep correction. The government is already taking steps to boost supply and ease demand and the current cycle isn't showing signs of a crash, he said.

The Asian financial crisis touched off a six-year property bust in Hong Kong that shaved more than two-thirds off prices and saddled the city with a stagnant economy and deflation.
Chan said he doesn't expect that to be repeated. "The situation is very different from 1997."
Read more: Ghost of '97 stalks economy infected by housing debt
Efforts by authorities to cool demand through tighter rules for lending and other measures have so far had little impact on home prices in Hong Kong, as developers bid up the cost of land to new records and borrowing costs remain low. The value of outstanding mortgages jumped by more than a third in the five years through December and now amounts to 47 percent of gross domestic product, more than 10 percentage points higher than in early 1997 before a housing bubble burst.
Predictions of a property crash in Hong Kong have been proven wrong in recent years as the city shook off crises, epidemics, an aging population and China's slowdown. Its status as a gateway to the world's second-biggest economy, with Western-style legal protections, means Hong Kong continues to attract investment.
Chan said the former British colony's role as a conduit for capital into and out of China remains a key strength.
"We can be a risk manager for both sides," Chan said.
Before it's here, it's on the Bloomberg Terminal.
LEARN MORE