New Zealand Says U.S. Indicates It's Open to Free-Trade Deal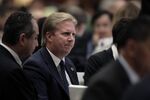 New Zealand Trade Minister Todd McClay said the U.S. signaled it was open to a free-trade agreement when the time was right and didn't see any major issues because of the good relationship between the two nations.
"I've welcomed their interest in an FTA as a demonstration of the good shape our trading relationship is in," McClay said Sunday following talks in Washington with Commerce Secretary Wilbur Ross and U.S. other officials.
New Zealand has a target for 90 percent of its goods trade to be covered by FTAs by 2030. The U.S. will be an important part of achieving that goal and the discussions this week in Washington were encouraging, McClay said.
Before it's here, it's on the Bloomberg Terminal.
LEARN MORE