If Dana's Sukuk Is Illegal Now, It Was Illegal Then, Lawyer Says
By
Ruling on mudarabah sukuk structures has existed since 2007

Dana Gas is presenting a debt case as Islamic finance issue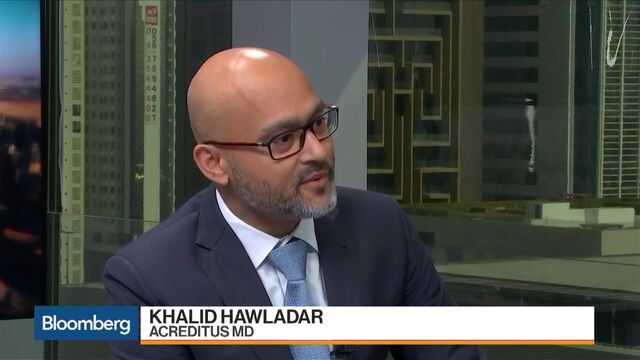 Nothing in Islamic finance or the United Arab Emirates' laws regarding Shariah-compliant debt has changed since Dana Gas PJSC restructured its sukuk about four years ago. "What makes the sukuk illegal now?" asks Rizwan Kanji, a partner at law firm King & Spalding LLP.
When the gas producer started negotiations with creditors in 2012, the issue relating to mudarabah structures was "clear and settled," said the Dubai-based lawyer who specializes in Shariah-compliant deals. Since then, there have been no changes in Islamic finance or related U.A.E. laws, so if the company's claims that its $700 million bonds are illegal now, then they were illegal when they were issued, he said.
Dana Gas said last week it no longer considered its two securities Shariah-compliant under the U.A.E.'s law. A court in Sharjah has since barred bondholders from taking any action against the bonds until it reviews the company's application to declare its debt "unlawful and unenforceable."
Dana Gas was also granted an additional injunction from the commercial division of the High Court of Justice in the British Virgin Islands on June 13, according to another statement. The company has filed a pre-emptive lawsuit in the English High Court of Justice in London "to protect its interests against any hostile action" by sukukholders.
Read More: Dana Gas Bid to Void Debt Stuns Analysts Who Question Motive
The following are highlights from Bloomberg's interview with Kanji:
What's the controversy?
"It was in 2007 that Sheikh Muhammad Taqi Usmani, an Islamic scholar who was chairman of AAOIFI (a Bahrain-based institution that issues Shariah-compliant accounting and auditing rules), indicated that Islamic equity structures, such as mudarabah, can't be used to build fixed-income instruments where the profit payments and principal were guaranteed."
"It's fair to say that mudarabah structures for fixed-income deals stopped after 2007, except that they were and continue to be used in equity-like sukuk such as Tier I offerings by financial institutions and similar hybrid securities by companies."
NOTE: A mudarabah structure stipulates that the capital provider agrees to share the profits between themselves and the entrepreneur at an agreed ratio or percentage. Click here for more on Islamic finance.
Can you explain the difference?
"Sukuk can be either debt-like or equity-like. Historically and particularly pre-2007, the mudarabah Islamic structure was utilized in structuring fixed-income like issuances, where the profit component and principal amount to an extent was guaranteed, irrespective of the performance of the underlying mudarabah assets."
Is Dana's sukuk illegal according to U.A.E. law?
"It is well established that where U.A.E. law contains specific provisions and codes, local courts will give effect to that provision. In the absence of any U.A.E. law, would provision then turn to a Shariah court? The point by the company suggests that all conventional banking and interest bearing financing in the U.A.E. would be illegal" if the nation's laws don't address them specifically, because they don't comply with Shariah principles, he said.
"Dana Gas is understandably trying to restructure the commercial terms, but it's extremely unfortunate and inaccurate that a credit and restructuring issue is being wrapped and presented as an Islamic finance issue."
Before it's here, it's on the Bloomberg Terminal.
LEARN MORE