Your Evening Briefing
Here are today's top stories.
Bloomberg News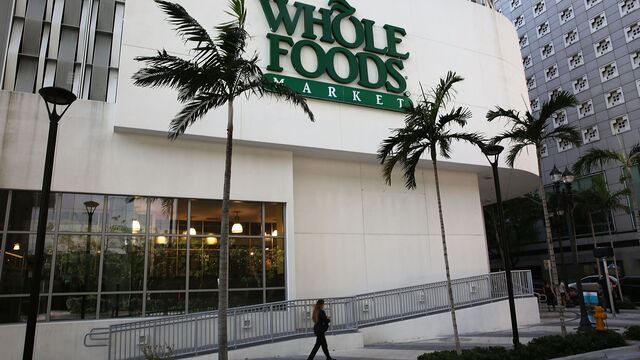 Want to receive this post in your inbox every afternoon? Sign up here.
Good afternoon. There's nothing like the rush of a big acquisition on a Friday morning, especially one that involves grain bowls and expensive avocados. The implications of Amazon's $13.7 billion purchase of Whole Foods are much broader than grocery stores: The e-commerce giant is acquiring a network where it can implement decades' worth of experiments in how people pick, pay for and get groceries delivered. The Whole Foods deal acknowledges that Amazon can't build its own physical footprint quickly enough alone.
If anyone deserves a summer Friday, it's Jeff Bezos. —Megan Hess
Amazon will acquire Whole Foods for $13.7 billion, a bombshell of a deal that catapults it into the supermarket business with hundreds of stores across the U.S. While Whole Foods shares are surging because of the 27 percent premium being paid, other grocers are getting crushed. On Friday morning, Kroger was down as much as 17 percent, Supervalu dropped as much as 22 percent and Weis Markets slumped as much as 9.6 percent.
Trump lashed out at the top Justice official and confirmed he's the focus of a probe. The president appeared to attack Deputy Attorney General Rod Rosenstein in a tweet on Friday and acknowledged that his firing of James Comey as FBI director is a focus of the investigation. "I am being investigated for firing the FBI Director by the man who told me to fire the FBI Director!" he wrote. "Witch Hunt."
The London tower blaze exposes a divided Britain. The inferno that ripped through the 24-story tower on Wednesday morning left at least 30 people dead, 24 hospitalized and many more missing. For devastated locals, some of whom are still searching for loved ones, it was emblematic of how they have been abandoned by an uncaring government that spent the last seven years slashing spending on vital services.
 CenturyLink was accused of running a Wells Fargo-like scheme. A former employee claims she was fired for blowing the whistle on the telecommunications company's high-pressure sales culture that left customers paying millions for accounts they didn't request, according to a lawsuit filed this week in Arizona state superior court. The suit claims Heidi Heiser was fired days after notifying CEO Glenn Post of the alleged scheme during a companywide Q&A session held on an internal message board.
Where the rich are the richest. While global inequality is simply accelerating, in America it's gone into overdrive. The share of income going to the top 1 percent in the U.S. has more than doubled in the past 35 years. Meanwhile, the world's richest nation — not the U.S. — has rarely looked weaker.
How to succeed in business while really trying. From Diane von Furstenberg and Margaret Cho to the founders of Chobani and Reddit, we collected the best expert advice on building your career — and organized it according to what an aspiring CEO would need to know en route to the corner office.
You're grilling the wrong things. That burger there? If you want the best, juiciest, well-seared beef, take that patty off the grates, argues chef Daniel Herget, of Little Octopus in Nashville, Tennessee. And that salmon? Take it back inside. Here are seven things you should never cook on the grill.

Before it's here, it's on the Bloomberg Terminal.
LEARN MORE