Trump EPA Chief Met Energy CEOs at Trump Hotel Amid Rollback
By
EPA Head Pruitt also met with coal, chemical, other executives

Schedule of Pruitt meetings in first weeks in office released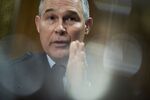 U.S. environmental chief Scott Pruitt met in March with oil executives over dinner in Trump International Hotel, just as he was moving to relieve the industry of one of its biggest Obama-era regulatory burdens: a requirement to curtail methane leaks. 
The session inside the hotel just blocks from the White House was just one of a series of meetings the Environmental Protection Agency administrator had with oil, coal and chemical leaders during his first six weeks on the job, according to newly released details of his schedule. 
The meetings include sessions with coal magnate Robert E. Murray and Dow Chemical Co. Chief Executive Andrew Liveris, but none with officials from environmental or health groups, the 35-page list shows. The schedule, spanning Feb. 21 to March 31, shows Pruitt visiting with many of the corporate stakeholders set to benefit from his moves to reverse or revise regulations governing water pollution, air pollution and greenhouse gas emissions.
EPA spokeswoman Liz Bowman said Pruitt was appropriately meeting with stakeholders.
"Each meeting, phone call or discussion that the administrator has is focused on the agency's work to employ a positive environmental agenda," she said in an emailed statement. "The administrator and his staff have discussions daily with our country's businesses, as well as Democrat and Republican government leaders about how we can work together as a country to achieve clean air, land and water."
Related: Trump Sued for Foreign Business Profits by Democrats in Congress
The dinner with oil executives of the American Petroleum Institute's Board of Directors -- as many as 45 of them -- was March 22 at the Trump hotel, which has been the source of controversy.
The hotel, which opened last year, is the subject of multiple lawsuits, as Maryland and the District of Columbia claim Trump is violating a constitutional clause barring him from receiving payments or gifts from foreign governments. Democratic lawmakers also are challenging the arrangement in a lawsuit filed earlier this week. Trump has turned over the operation of the Trump Organization to his sons, Eric and Donald Jr.
By the time of the dinner, Pruitt had already canceled an information collection request sent out by the previous administration, asking oil and gas companies to provide detailed data about methane emissions from their wells and processing equipment. And then, on April 10, EPA told a federal court it was reconsidering a regulation requiring energy companies to find and repair leaks of methane, a potent greenhouse gas. 
When Steve Pastor, an executive with BHP Billiton, met with Pruitt on March 22, according to the schedule, he planned to "thank" the administrator for his leadership, with a special focus on methane policy. A. J. Ferate, a vice president of regulatory affairs at the Oklahoma Independent Petroleum Association, met with Pruitt on March 28 to offer "a few words of appreciation for canceling the information collection request" for methane.
Earlier this week, the EPA said it would impose a two-year stay on the methane regulation while the agency considers whether to toss it out entirely.
Read More: Trump's Environment Rollbacks Won't Stick, Obama's EPA Head Says
Liveris, who also leads Trump's manufacturing council, talked with Pruitt on March 9, during the CERAWeek energy conference in Houston, where they both were speakers. Weeks later, on March 29, Pruitt signed an order denying a petition that would have banned chlorpyrifos, a pesticide Dow sells under the trade name Lorsban. Dow spokesmen did not immediately respond to emailed requests seeking comment.
Pruitt has met with at least two environmental groups during his time in office, although an April 21 session with representatives of both the Audubon Society and the Nature Conservancy was not included in calendar released Thursday night because it fell outside the dates disclosed. He also met with representatives of Securing America's Future Energy, a group that wants the U.S. to decrease its reliance on imported oil.
And he has visited with a slew of politicians advancing a variety of interests, including the Democratic governors of Colorado, Hawaii, Montana and Oregon, who had broadly supported the environmental rules issued under President Barack Obama.
Read More: Icahn Says His Ethanol Plan Helps Keep Refineries in Business
Refiners and truck stop operators also visited with Pruitt during March to discuss a proposal -- advanced by billionaire investor and White House regulatory adviser Carl Icahn -- to change who is responsible for fulfilling annual biofuel quotas. For instance, Pruitt met with opponents of the change, including Greg Love, the president of Love's Travel Stops & Country Stores Inc., and John Minge, the chairman and president of BP America, on March 22 and March 20, respectively. Another session had Pruitt discussing biofuel policy with Jeff Broin, the chief executive of Poet LLC, one of the largest U.S. producers of ethanol. Pruitt met with an advocate of the policy shift March 30, when he sat down with George Damiris, chief executive of independent refiner HollyFrontier.
The newly released schedule does not shed any light on the substance of Pruitt's March 28 conversation with Bob Murray, the head of coal miner Murray Energy Corp. It took placer the same day President Donald Trump signed an order directing the reversal of Obama-era climate rules. Coal miners gathered behind Trump as he signed the order, which won Murray's praise. 
"People are going to freeze in the dark because of the destruction of the reliable electric power grid under Obama and the Democrats," Murray said at the time. "Mr. Trump is doing the right things."
Quotes from this Article
Before it's here, it's on the Bloomberg Terminal.
LEARN MORE