Russia Moves Goalposts on Inflation But Keeps Easing Cycle Alive
By and
Central bank opts for smaller rate cut, in line with forecasts

Inflation surprisingly stalled near 4% target for two months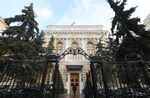 Russia's central bank has found a reading of inflation bad enough to justify sticking to its "moderately tight" stance.
While the headline number is just short of its 4 percent target, policy makers are now paying closer attention to its average annual value over the past 12 months, which is now at 5.6 percent, according to Governor Elvira Nabiullina. Speaking after the Bank of Russia delivered the third straight decrease in borrowing costs in 2017, she said an uninterrupted easing cycle is far from guaranteed but the potential for rate cuts this year hasn't changed.
"It's possible that we may take pauses, and not just for one meeting, if an assessment of risks shows a higher probability that they will materialize," Nabiullina said at a news briefing in Moscow.
While slowing its pace of monetary easing on Friday, the Bank of Russia said it sees "room for cutting the key rate" in the second half after reducing it to 9 percent from 9.25 percent, according to a statement. Though the ruble's appreciation and a bumper harvest helped to moderate price growth faster than forecast, policy makers have said that inflation was on the decline thanks to factors that may reverse. 
As tensions with the U.S. escalate and oil heads for the longest run of weekly losses since August 2015, the backdrop to the decision worsened since Nabiullina hinted almost two weeks ago that another rate cut was imminent. By shifting to a quarter percentage-point step after a bigger decrease in April, the central bank is reacting to a surprise halt in inflation above its target for two months. It was at an estimated 4.2 percent from a year earlier on June 13.
Click here to watch Nabiullina discuss Russian rates after June's meeting
The ruble pared a third weekly drop while bonds fell after the announcement. Yields on government notes climbed to the highest level in a month, while the Russian currency traded 0.2 percent stronger at 57.7625 against the dollar as of 5:18 p.m. in Moscow.
Considering the level of the 12-month inflation average, the fact that price growth is near the target isn't enough. "That's only the first result, and it remains to be proved that it's sustainable," Nabiullina said.
Russians put perceived inflation at 12.1 percent in May, and see it slowing only to 10.3 percent a year ahead. Nabiullina's choice of a "lagging" indicator for inflation surprised Alexander Isakov, an economist at VTB Capital in Moscow. "I thought that projected inflation should be the main indicator," he said.
But Dmitry Polevoy, an economist at ING Groep NV in Moscow, said the shift of focus is warranted because the 12-month figure is a better gauge of the central bank's success in anchoring price growth and inflation expectations.
"It makes sense given the adaptive nature of inflation expectations, so it will be among several inflation measures the Bank of Russia monitors," he said. "This also echoes its focus on trend inflation, which it comments on every month."
Risks for inflation "remain elevated," policy makers said, pointing to factors ranging from the outlook for oil and a labor shortage in Russia to possible changes in taxation. The Bank of Russia also improved its forecast for economic growth this year to 1.3-1.8 percent from 1-1.5 percent.
"Inflation risks were down in the short term, while they remain in place in the medium term," it said. "The maintenance of moderately tight monetary conditions for a long period of time to anchor inflation close to the target will be required."
Asked to clarify the time frame at the briefing, Nabiullina said it was impossible to say exactly how long the stance would have to be in effect. It "could be more and it could be less than" a year and a half to two years, she said. Any shift in bias would depend on how quickly the central bank succeeds at bringing inflation expectations down and keeping them low, according to the governor.
Annual price growth was 4.1 percent in April and May and may even temporarily speed up in the coming months after cold weather this spring helped run up the cost of food products, according to the central bank's research and forecasting department.
"Rates will be cut more than once this year," said Evgeny Koshelev, an analyst at Societe General SA's Rosbank PJSC in Moscow. "It will just be done more carefully and not as often."
— With assistance by Zoya Shilova, and Olga Voitova
Before it's here, it's on the Bloomberg Terminal.
LEARN MORE