This Former New Zealand Minister Will Lead Brexit Trade Talks
By
Falconer has worked in academia, for OECD and for New Zealand

Trade Secretary Liam Fox to visit Washington on Monday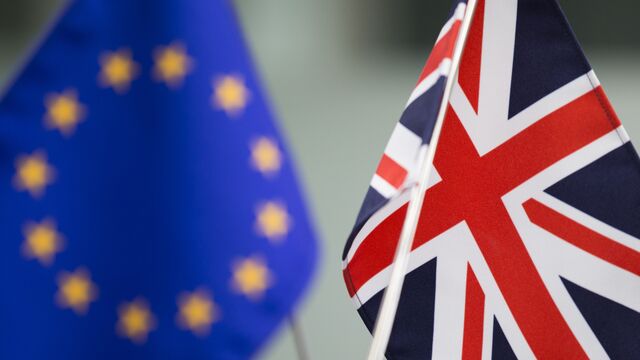 U.K. Prime Minister Theresa May named a former New Zealand diplomat, Crawford Falconer, to be the government's chief trade negotiations adviser, charging him with helping to broker new trade deals with the rest of the world as Britain prepares to leave the European Union.
Falconer and his team will develop and negotiate free trade agreements and market access accords with nations outside of the EU, the Department for International Trade said on Friday in an statement. He'll also assist in landing deals for specific sectors and products.

"Britain is a great global trading nation and, as we leave the EU, we will embrace the world and seek to build an outward-looking Britain that is confident on the world stage," International Trade Secretary Liam Fox said.
The appointment strengthens May's team as her government prepares to start discussions with the EU on Monday to extricate Britain from the bloc. She's repeatedly said she wants a "global Britain" to pursue new trade deals from the U.S. to China and Australia -- something it can't do as a member of the EU and its customs union. 
As part of that effort, Fox will visit his U.S. counterparts in Washington on Monday "to explore ways of deepening trade and economic links," the department said.
After losing her majority in last week's general election, there has been speculation that May would have to soften her stance on Brexit, with ministers suggesting Britain could remain in Europe's single market and customs union. The appointment of Falconer suggests May still intends to leave the customs union, because if Britain stays in that organization, it's not allowed to negotiate its own trade deals.
Since being created 11 months ago, the Trade Department has hired more than 3,000 people globally, according to the statement.  A spokeswoman for the Trade Department said by telephone that a start date hasn't been finalized with Falconer, but that the government hopes to have him in place in the late summer.
Falconer has both British and New Zealand nationality. He's worked on trade policy for the New Zealand government, the Organization for Economic Co-operation and Development and in academia for 25 years, the Trade Department said.
Currently professor of global value chains and trade at Lincoln University in Christchurch, New Zealand, he has also served as that country's vice minister for international trade and foreign affairs, and as the country's ambassador to the World Trade Organization, according to the U.K. statement.
In November, Falconer wrote in the New Zealand Herald that its government should be "working hard on the U.K. and drawing it into wider agreements with us."
"As the U.K. prepares to leave the EU, it will be top of the government's agenda to turn the enormous new opportunities opening up for the U.K. into win-win agreements with our trading partners around the globe," he said in the statement released on Friday. "That will bring tangible new gains to us at home, and it will bring gains to those trading partners that join us."
(
Corrects location of university in ninth paragraph of story first published on Friday.
)
Quotes from this Article
Before it's here, it's on the Bloomberg Terminal.
LEARN MORE