Large Whole Foods Investors Say Amazon Bid Undervalues Chain
By and
Market signals it agrees, pushing stock above Amazon offer

Wal-Mart, Target and Kroger seen as possible competing bidders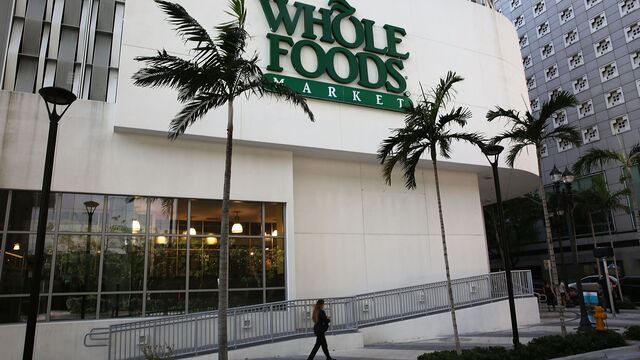 Some of Whole Foods Market Inc.'s largest investors are saying Amazon.com Inc.'s $13.7 billion offer for the grocery likely won't be the end of the story.
"We may not have heard the end of this," said Kimberly Scott, a portfolio manager for Waddell & Reed Financial Inc. -- a top 20 Whole Foods holder -- and pointed to Wal-Mart Stores Inc. as a possible bidder. "There's clearly a lot of threat to a lot of big retailers as a result of this deal."
Amazon's agreement to buy Whole Foods for $42 a share will give the e-commerce behemoth hundreds of physical stores and fulfills a long-held goal of selling more groceries. But some investors said they are disappointed -- even with a surge in the stock after the deal -- because the bid still undervalues its brand loyalty and potential for a push into small-format locations.
The stock had also declined 18 percent over the past two years before the deal was announced, as increased competition and falling food prices hurt results.
"We've always thought the brand was worth more than the company -- I'm guessing this isn't the final chapter," said Charles Kantor, managing director at Neuberger Berman Group, a top 10 holder of Whole Foods stock. "We trust the board to examine and explore all avenues to maximize the value of the asset."
Powerful Brand
The broad market reinforced the idea that a rival bid may be coming as the stock surged above Amazon's offer on Friday afternoon. The shares were up 31 percent to $43.22 at 3:02 p.m. in New York.
Another bid for Whole Foods can't be ruled out because Amazon's takeout price of $42 a share is undervaluing Whole Foods' prospects and powerful brand, according to Rupesh Parikh, an analyst for Oppenheimer. Earlier this year, Oppenheimer valued Whole Foods in a buyout scenario in the mid $40-range. After the deal was announced, it raised its target price for Whole Foods to $45 from $40.
"We believe there could be some money left on the table," Parikh said in a note to clients. 
Wal-Mart, Target Corp. and Kroger Co. may make bids to push Amazon to spend more or prevent Whole Foods from giving it a boost in the grocery business that it entered a decade ago, according to Karen Short, an analyst for Barclays. She raised the price target on the shares to $48 from $38.
"We wouldn't be surprised if there is a bidding war," Short said in a note to clients. "There will be much uncertainty until the dust settles."
Before it's here, it's on the Bloomberg Terminal.
LEARN MORE