In the Pantheon of Greek Deals, Is This One Big?: QuickTake Q&A
By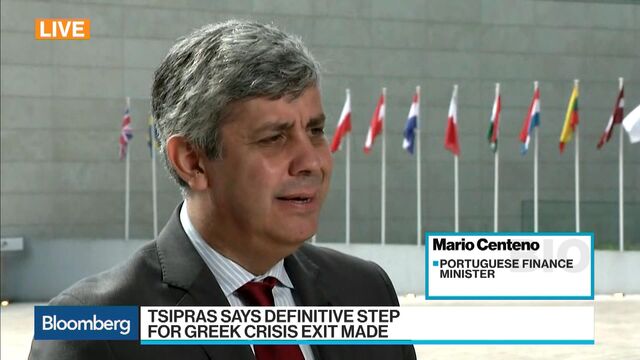 After months of wrangling, Greece's creditors granted the struggling nation an 8.5 billion euro ($9.5 billion) aid payment and committed to debt relief if needed, putting an end to the latest round of political bickering. They also bound at least two more generations of Greeks to stringent austerity measures required to meet a new series of economic targets. Investors applauded the move as they digested what the latest deal means for stability in Athens.
1. What's different this time?
The accord, reached by euro-area finance ministers in Luxembourg on Thursday, will cap Greece's gross financing needs at 15 percent of gross domestic product for the medium term and at 20 percent thereafter, while extending maturities and deferring the interest payments on some bailout loans by as much as 15 years. Greece agreed to additional austerity measures -- equal to about 2 percent of GDP -- that go beyond the end of its latest bailout in 2018, including a lower threshold for tax-free income and a further cut in pensions. The steps will be offset by other measures if the country beats its ambitious budget targets. 
2. What does this mean for Greek politics?
The decision will give Greek Prime Minister Alexis Tsipras some time to breathe "at least for the next six months, '' according to Nikos Marantzidis, a professor of political science at the University of Macedonia in Thessaloniki. Greece's prolonged financial drama has made its citizens less sensitive to such decisions and a significant shift in opinion polls isn't expected immediately. The payout will calm Greece's financial markets, and the fact that it was larger than expected could mean fresh money can be directed to the economy starting in September, Marantzidis said.
3. So markets approved?
Greek bonds rose as soon as trading began on Friday. The yield on 2-year debt fell by 21 basis points to 4.77 percent at 12.33 p.m. in Athens. That's important because the country hopes confidence will be restored enough to return to public debt markets and sell bonds in the coming months. The benchmark ASE index rallied to a two-year high, gaining as much as 1.7 percent, with the banking index rising 3.8 percent.
4. Is Greece's debt sustainable?
That's still a matter of debate. Even though the accord allowed for the disbursement of funds, it wasn't enough to convince the International Monetary Fund to also lend money to the country. The Washington-based fund will sign off on a 14-month bailout but won't dole out fresh loans until it receives assurances from euro-area officials on how the nation's debt will be made sustainable. After the Luxembourg meeting, IMF Managing Director Christine Lagarde said she will propose to the fund's board an "approval in principal'' of a stand-by deal that could include a loan of about 2 billion dollars, which wouldn't be disbursed until debt-relief measures were instituted. The agreement allows the IMF to abide by its lending rules while also participating in the rescue program -- albeit in a partial manner -- a prerequisite for many euro-area countries.
5. Can Greece now be included in the ECB's QE program?
Probably not. Without the IMF's agreement that the debt is sustainable, Greece cannot have its bonds included in European Central Bank's bond-buying program known as quantitative easing, a promise Tsipras's government has been making for months and a move that would lower Greece's borrowing costs. "We take note of the Eurogroup discussion, which we see as a first step towards securing debt sustainability,'' a spokesman for the European Central Bank wrote in an emailed statement following Thursday's meeting.
6. So, will Greece be able to sell bonds again?
Maybe. European Union officials have said Greece shouldn't rely on the ECB's QE program given that it was never a certainty. They have pointed out that very few of its bonds are even eligible for inclusion. Creditors, however, gave Greece a payout that includes a buffer, boosting the nation's liquidity, which could help if it tries to tap the debt market. 
7. Did Greece agree to keep spending tight?
Yes, part of Greece's agreement with its creditors was for the country to achieve primary budget surpluses of about 2 percent of gross domestic product from 2023 until 2060. While this agreement means that creditors won't have to make a decision on substantial debt relief until the end of the current program next year, 37 years is a long time to maintain such targets.
8. Is this the end of the Greek crisis?
The deal gives Greece sufficient cash to stay afloat until next year, and build a buffer that will help it regain the trust of investors. As no large redemptions are due after July, we can safely assume that this season of the Greek drama has come to an end. But with most of the debt-relief measures still left to be "calibrated" next year, Greece may not be able to rely solely on markets for debt refinancing when its latest bailout expires in 2018, especially if its economic recovery remains subdued. A fourth program may still be in the cards, and the strings attached to it could add further strain to the country's government, whose popularity is plunging. Stay tuned for the next season in 2018.
The Reference Shelf
Before it's here, it's on the Bloomberg Terminal.
LEARN MORE