As Stocks Take Hits, U.S. Earnings Estimates Show Striking Calm
By
EPS growth forecast holds near 12% after years of downgrades

Company guidance improved for three consecutive months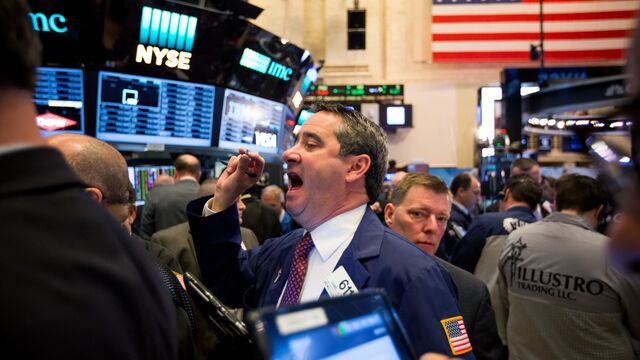 Whatever's causing the weakness in hot corners of the equity market to persist, it isn't earnings forecasts.
It's the middle of June, and Wall Street firms have on average left intact -- that is, not lowered -- their estimates for annual S&P 500 Index profits since the start of the year. That hasn't happened since at least 2012. The combined prediction from single-stock analysts is for income to rise 12 percent in 2017 to $132 a share, a tad above the view in January.

At the very least, the confidence is a support pillar for the equity market, where some of the heaviest selling of the year has landed in the past week on technology shares. Sure, a market where millions of investors trade might be more sensitive to weakening prospects than a few thousand analysts. But even in up years estimates are usually being slashed by now.
Helping fuel the growth are the weakening dollar and a synchronized global economic expansion, according to Bank of American Corp. strategist Savita Subramanian. With companies on course for one of the fastest years of profit growth since 2009, it may be one reason political dramas haven't cast a lasting spell on the bull run.
Hopes for a quick enactment of tax cuts have faded amid questions about President Donald Trump's dealing with top intelligence officials. Yet the stock market's ascent has suffered only intermittent breaks. The S&P 500 is up 3 percent since March, poised for a seventh straight quarter of gains.
The resiliency of Street projections raises the question: If earnings aren't the problem, what is? One theory is that investors are balking at a valuation bar set higher than at any time since the dot-com bubble. Others see the recent pullback as a predictable pause after more than $500 billion was added to the market value of Facebook, Amazon.com, Microsoft, Apple and Google this year.
Analysts are breaking their annual habit of rethinking optimism as months go by. In the last four years, their S&P 500 earnings forecast fell an average 3.9 percent from January to June. Now, it's up 0.3 percent.
The bullish stance is being echoed by companies themselves. According to Bank of America, the number of firms providing guidance above analyst estimates increased for three consecutive months relative to those with lower guidance. At 0.9 percent, 3-month ratio reached the highest level since late 2010.
Before it's here, it's on the Bloomberg Terminal.
LEARN MORE