business
Zara Founder's Handouts to Cancer Hospitals Spur Praise, Anger
By and
Amancio Ortega's donations highlight equipment shortages

World's third-richest man is distributing part of his wealth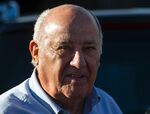 Tina Fuertes, under treatment for 10 years for cancer, has a message for Inditex SA founder Amancio Ortega after he donated 320 million euros ($359 million) for public hospitals to fund equipment to treat the disease.
"If I saw him, I'd first give him a big hug and then I'd say thank you Amancio because you're helping us to live," said Fuertes, 56, a teacher from Cadiz province who lost her father, mother and brother to cancer. "Spaniards have a soft spot for Amancio who is someone who built a great business from nothing and is giving something back."
While cancer patients like Fuertes praise Ortega for distributing a part of his $84 billion fortune, not everyone is happy with the secretive billionaire's largess. For some workers in a public health system assailed by the legacy of budget cuts during Spain's financial crisis, handouts from the world's third-richest man are neither appropriate nor welcome.
"Our region should not have to resort to, accept or say thank you for the generosity, altruism or charity of any person or organization," the Aragon Association for the Defense of Public Health said in a statement after the Ortega foundation made a 10 million-euro donation to the Spanish region. Other associations representing doctors and nurses in the Canary Islands and the Basque Country have also questioned the donations.
Pablo Iglesias, the leader of anti-austerity party Podemos attacked Ortega's donation in parliament on Wednesday, arguing that Spain's healthcare system should not rely on charity.
"If you have cancer, your case should be treated by the health care system, not a millionaire, " he said.
The controversy reflects a difference of public opinion between Spain and countries like the U.S., where it's common for hospitals and institutions to take on the name of a donor. In Spain, that approach raises concern public services would be beholden to private individuals.
Viable and Universal
Although Spain's economy is expanding for a fourth year, the country's medical system is still reeling from the effects of cutbacks, according to the Spanish Association Against Cancer. Spending on health care -- including hospital treatment and drugs -- fell by close to 14 percent between 2009 and 2013 after rising an average of 8 percent a year from 1995 to 2009, according to a report by ESADE-Antares Consulting.
"We welcome donations but we have to ensure that the health care system is viable over time and universal, " said Esther Diez, a spokeswoman for the cancer association. "Budget cuts have affected patients, medical research and prevention programs."
The Ortega family's charitable foundation announced the donations in March, saying they would pay for 290 pieces of cancer-treatment equipment. Cristina Cifuentes, the head of the Madrid regional government, this week thanked the foundation for its 46.5 million euros donation for the region in the name of 28,584 people there diagnosed with the disease every year.
Still Growing
Ortega, meanwhile, continues to build his wealth as Inditex, the company he nurtured over the past four decades has grown from a single store in the Spanish city of La Coruna into the biggest global fashion retailer, beating rivals Hennes & Mauritz AB and Gap Inc., thanks to its penchant for affordable runway looks and quick turnout.
The company's shares have more than doubled in the past five years, putting Ortega's net worth at just 7 percent below that of Bill Gates -- a noted philanthropist whose foundation had paid out $36.7 billion in total grants through 2015. Inditex on Wednesday reported quarterly earnings that rose at the fastest pace in almost two years as online sales bolstered growth.
If Ortega decides to donate more of his fortune to fund Spanish health care, the country should thank him, Inma Escriche, a 46-year-old human resources director fighting lung cancer, said in an interview. "The help is very welcome because the health system always needs resources." Escriche posted a picture on Facebook showing a Zara bag.
"Chemotherapy today is a tribute to #amancioortega," she wrote in her post.
— With assistance by Brendan Coffey
Before it's here, it's on the Bloomberg Terminal.
LEARN MORE