Your Evening Briefing
Bloomberg News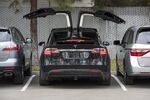 The evening briefing will soon be available in your inbox every day. Sign up here.

As home prices soar to new highs in Hong Kong, here's a stark illustration of just how much space you get for your cash in the city. For just less than $500,000, you could become the proud owner of this 161-square-foot micro-flat sold by property giant Henderson Land Development. To illustrate just how small that actually is, you could just about reverse a Tesla Model X into the space. But you'd risk your sideview mirrors, and you certainly wouldn't be able to open the doors. For a fraction of that price, you could just buy a Tesla and go live in it. — Kristine Servando and Alex Millson
After chairman's detention, Anbang's woes deepen. Chinese authorities have asked banks with ties to the insurer to suspend their business dealings with the company, according to a person familiar with the matter. The directive came as investigators began looking into Anbang's operations. The unfolding saga is the latest reminder to the country's billionaires that wealth and power are no longer enough to keep them out of trouble.
Emirates fined for two ``unsafe incidents'' in China. In a bid to improve safety in its airspace, Chinese officials have fined Emirates Airline 29,000 yuan ($4,265) and barred the carrier from expanding operations in the country for six months, citing two violations of air-safety norms. The first came when an Emirates crew misunderstood instructions and flew at a wrong altitude, according to the Civil Aviation Administration of China, while the second saw an airliner's radio equipment fail.
Leaked footage shows Australian Prime Minister mocking Donald Trump. Malcolm Turnbull risks a fresh rift with the U.S. president after footage emerged showed him parodying Trump and alluding to a U.S. probe into potential election-campaign links with Russia. Turnbull played down his Trump impression, calling it "affectionately light-hearted."
Qatar signs $12 billion deal for U.S. F-15 fighter jets. The deal to buy as many as 36 of the aircraft comes as the two countries navigate tensions over President Donald Trump's backing for a Saudi-led coalition's move to isolate Qatar. The move highlights the complex position the Trump administration finds itself in, forced to balance its focus on fighting terrorism against regional rivalries between key allies.

The central bank that outsmarted George Soros is making its latest bet. The National Bank of Kazakhstan made a prescient call to sell pounds a day before the Brexit referendum. George Soros, who famously broke the Bank of England in 1992, netting a profit of $1 billion, didn't repeat that wager. Now, the Kazakh bank is growing more upbeat about the pound, while taking a dimmer view of the euro and the yen.
Jack Ma's libertarian talk approaches the red line. Corporate executives sometimes like to talk about how their companies are overtaking nation-states. In China, they tend to be careful not to outshine the government and avoid such analogies. Yet that's just what Jack Ma did last week.
This is the only pair of wireless headphones you need. Not quite flashy, not quite retro, and excellent in sound quality, the Sennheiser HD 1s are just right for music, gaming and even talking on the phone. But they don't come cheap.
Quotes from this Article
Before it's here, it's on the Bloomberg Terminal.
LEARN MORE