U.K.'s Davis to Open Brexit Negotiations With Barnier Monday
By
Davis and Barnier, EU's chief negotiator, to meet in Brussels

Opinion poll shows 70 percent of Britons still want Brexit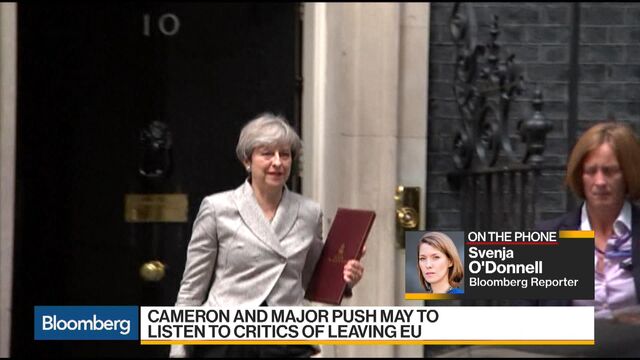 U.K. Brexit Secretary David Davis and his European counterpart Michel Barnier will open negotiations over Britain's split from the European Union on Monday, almost a year after the country voted to leave.
Davis and Barnier, the EU's chief negotiator, will start formal talks in Brussels, according to a statement by Davis's office. The initial sessions are due to focus on how the talks will be structured before moving on to the post-Brexit rights of EU citizens living in the U.K. and Britons living on the continent.
The move comes after Chancellor of the Exchequer Philip Hammond on Thursday canceled a speech in which he was set to make the case for protecting jobs and economic growth rather than controlling immigration. He pulled out of the event after a fire gutted a high-rise residential tower in London, leaving at least 17 dead.
U.K. Prime Minister Theresa May acknowledged to Conservative colleagues on Monday that there is a broad range of views on Brexit in the party and promised to reflect that -- the clearest indication yet that she's willing to moderate her hardline approach after a disastrous election result last week left her fighting for her job.
An opinion poll for YouGov in the Evening Standard on Thursday showed that 70 percent of respondents still wanted to leave the European Union, while 23 percent said May should tone down plans. Thirty-seven percent said they had confidence in her ability, down from 48 percent in March.
Before it's here, it's on the Bloomberg Terminal.
LEARN MORE