U.K. Conservatives and Democratic Unionists Have Broad Agreement
By
Parties to prioritize Brexit, U.K. unity, prosperity

Senior Conservative official comments ahead of Queen's Speech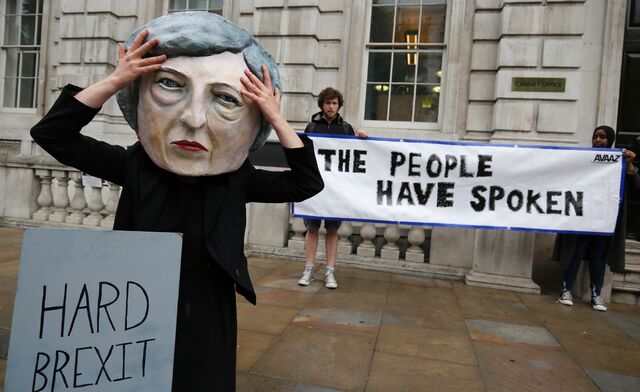 Theresa May's Conservatives have reached broad agreement with Democratic Unionists on a program for governing the U.K., buying the prime minister crucial time as she seeks to finalize a longer-term agreement with the Northern Ireland party.
May's team are holding talks with the 10 lawmakers of the DUP aimed at securing their support for a confidence and supply deal, in which the smaller party will agree to prop up Tories in key parliamentary votes.
The Conservatives are trying to reach an accord with the party after losing their majority -- and with it, their right to govern Britain on their own -- in last week's national election.
Speaking in London on Wednesday, a senior Conservative official said talks with the DUP are progressing well and there is broad agreement on the principles of the June 21 Queen's Speech, in which the monarch sets out the government's headline plans.
After Queen Elizabeth II finishes her speech, lawmakers must vote on whether to approve it in the House of Commons. The Conservatives are confident there will be enough support in the Commons to win the vote, the senior Tory added.
While talks on a long-term deal to keep the Conservatives in power are ongoing, the government wants to get on with its business, the official said. The senior Conservative said both the Tories and the DUP are committed to strengthening the union, combating terrorism, delivering Brexit, and delivering prosperity across the whole country.
Before it's here, it's on the Bloomberg Terminal.
LEARN MORE