Trump Budget Chief Sees Fed Continuing Accommodative Rate Policy
By and
Mulvaney likens Fed balance-sheet reduction to an 'experiment'

Administration's budget didn't take Fed plan into account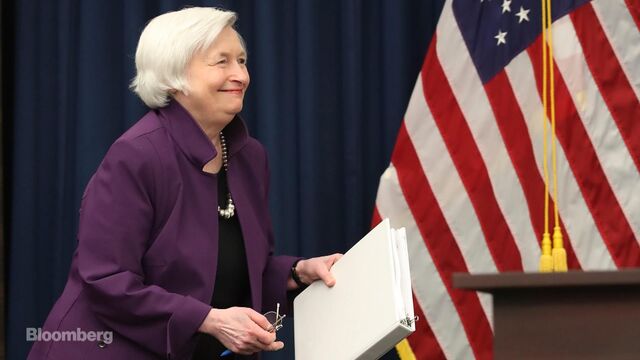 President Donald Trump's budget director said he expects the Federal Reserve to continue to run an easy monetary policy even as it unwinds the "unprecedented experiment" that swelled its balance sheet to $4.5 trillion.
"I think we're still in a position where the Fed will continue to be relatively accommodating," Mick Mulvaney, director of the Office of Management and Budget, told reporters Thursday at a briefing on government reorganization efforts.
Fed Chair Janet Yellen and her colleagues raised interest rates for the second time in 2017 on Wednesday and laid out plans to begin reducing the central bank's bond holdings this year. Stock and bond prices weakened after the Fed's moves as some investors worried that the actions would throttle back economic growth.
Yellen told reporters that the Fed wants the balance sheet contraction "to run quietly in the background over a number of years." It intends to start the draw-down with small monthly cuts of $6 billion of Treasury debt and $4 billion of mortgage-backed securities, and gradually increase them thereafter.
Mulvaney said he hoped Yellen is right in maintaining that the move wouldn't restrict the Fed's ability to conduct monetary policy. But he noted the planned contraction was something that hadn't been done before.
"The growth of the balance sheet was an unprecedented experiment so the reduction of the balance sheet is going to be the flip side of that same coin," the budget director said.
Mulvaney said the administration did not factor the Fed's balance sheet intentions into Trump's proposed budget.
A reduction in the Fed's holdings of Treasury and mortgage-backed securities will probably put some upward pressure on long-term interest rates by adding to the supply of those securities in the market, economists said.
The administration's budget does expect the federal government's interest rate costs to rise, but that is due to the faster economic growth the program is expected to foster, Mulvaney said.
Before it's here, it's on the Bloomberg Terminal.
LEARN MORE