Politics
This Is Mueller's Dream Team for the Trump-Russia Probe
The special counsel assembles veteran prosecutors to investigate collusion.
By and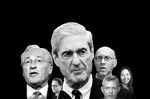 Former FBI director and special counsel Robert Mueller is tasked with investigating possible collusion between the Russian government and the Trump campaign. He's also working to determine whether President Trump obstructed justice in pressuring FBI Director James Comey to drop the Michael Flynn investigation. Based in downtown Washington, D.C., Mueller has built a small, focused team that draws on decades of experience and knowledge, ranging from mob prosecutors and fraud experts to lawyers with serious Supreme Court experience.
Team Mueller
The special counsel has recruited talent from his days at the FBI and from his old law firm WilmerHale (which also has attorneys representing Trump associates)

Robert Mueller
Second-longest tenure as FBI director
Former U.S. attorney
Oversaw prosecutions of mobster John Gotti and Panamanian strongman Manuel Noriega, as well as the Pan Am 103 bombing investigation
In the aftermath of Sept. 11, helped refocus the FBI on counterterrorism

Andrew Weissmann
Ran the Justice Department's fraud section under President Obama, overseeing corporate wrongdoing and foreign corruption probes
Has prosecuted mobsters
Was once the FBI's general counsel

Michael Dreeben
Has argued more than 100 cases before the Supreme Court for the Justice Department
Expected to offer advice on complex legal areas such as executive privilege and obstruction of justice

Aaron Zebley
Former FBI chief of staff to Mueller; ex-WilmerHale attorney
Worked as a national security prosecutor in Virginia
Was a lead FBI agent in case against Sept. 11 conspirator Zacarias Moussaoui

James Quarles
Assistant special prosecutor in the Watergate investigation
A former partner and intellectual-property litigator at WilmerHale

Jeannie Rhee
Worked in the Justice Department office that advises the White House
Represented the Clinton Foundation in a lawsuit at WilmerHale
Team Trump
The president has personal legal advisers, as do his associates, including Michael Flynn, Paul Manafort, Roger Stone, and son-in-law Jared Kushner

Marc Kasowitz
Bare-knuckled litigator and fierce defender of Trump
Has represented him for more than 15 years
Not a criminal lawyer, but has joined Trump's battles with regulators, real estate partners, and journalists

Jay Sekulow
Former attorney for the IRS
Chief counsel to the conservative American Center for Law and Justice
Has argued cases before the Supreme Court
Hosts a daily radio show and is a frequent guest on Fox News

Michael Bowe
Longtime law partner of Kasowitz
Ex-Sullivan & Cromwell litigator
Deposed hedge fund billionaire Steven Cohen in civil case
Sued Greenpeace for defamation on behalf of a paper company
Kushner
Ivanka Trump and her husband have tapped a Democrat as their lawyer
Jamie Gorelick
Clinton administration deputy attorney general
WilmerHale partner
Rumored to have been on Hillary Clinton's short list for attorney general
Flynn
The former national security adviser is likely an early target of Mueller's probe
Robert Kelner
Covington & Burling partner, election law expert
Represented Republican National Committee in congressional probe into Bush administration emails
Manafort
Trump's ex-campaign manager has done business in Russia
Reginald Brown
WilmerHale partner
Represented Rex Tillerson on complying with federal ethics rules
Stone
Stone, an ardent Trump supporter, has a tattoo of disgraced President Richard Nixon on his back
Robert Buschel
South Florida defense lawyer
Wrote a 2016 novel about a president who wins the White House after the election is hacked
Grant J. Smith
Does corporate transaction law in Florida
Before it's here, it's on the Bloomberg Terminal.
LEARN MORE