The Energy Industry Is Near a Big Tipping Point
Five stories that shaped the week, and the big ideas behind them.
By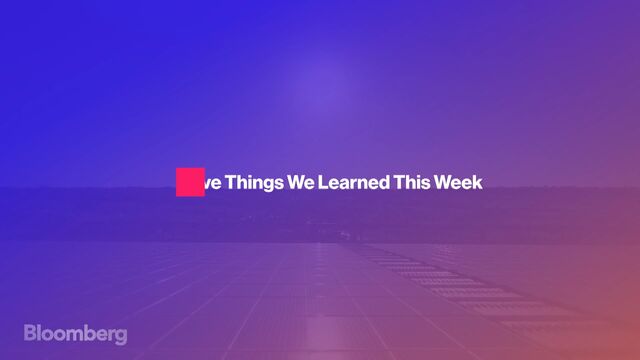 1) A Clean, Bright Future
A major milestone is coming soon for the world's biggest polluter. In 2021, solar power is going to be cheaper than coal in China—faster than many expect, according to a report from Bloomberg New Energy Finance. Power generated from solar energy is already as affordable or less expensive than its coal cousin in places like Germany and the U.S. In addition, offshore wind farms are getting more competitive. The report says the cost of turbines at sea will plunge 71 percent by 2040. "These tipping points are all happening earlier, and we just can't deny that this technology is getting cheaper than we previously thought," said Seb Henbest, a researcher at BNEF in London and lead author of the report.

2) Russia Probably Hacked Into Your State
U.S. investigators have found evidence that Russia hacked into election-related systems in 39 states, indicating that there was a much broader attempt to disrupt the vote than has previously been known by the public. One case study is Illinois, where hackers got into campaign finance and voter registration databases. Hackers aren't alleged to have changed votes, but there was evidence in Illinois that they tried to delete or change voter information, Bloomberg's Michael Riley and Jordan Robertson report.
3) There's One Big Problem With the New $13 Billion Aircraft Carrier

If you build a massive, floating runway, there's one thing that it must do well: Safely allow planes to take off and land. The newest and most expensive U.S. aircraft carrier is having trouble with that, Bloomberg reports. The Navy still isn't letting fully fueled-up jets take off from the USS Gerald R. Ford, though the landing system has apparently been fixed. The problem with take-off—or catapulting—was discovered in 2014. The ship isn't scheduled to be deployed until 2022.
4) Uber's Bad Behavior Finally Has Consequences
Here's an incredibly bad idea: Make a sexist joke in the middle of an all-hands meeting dedicated to taking sexism seriously. That's how venture capitalist David Bonderman lost his seat on the board of Uber, one of several major changes this week at a company that prided itself on pushing boundaries and challenging the rule of law. CEO Travis Kalanick said he was taking a leave of absence, and the company ousted its head of business, Emil Michael. The shakeup has been a long time coming after countless public scandals. (A Time.com article titled "7 Dead-Serious Uber Controversies That Somehow Didn't Sink the Company" is from 2014. 2014!) The shakeup came after the company's board reviewed a report by former U.S. Attorney General Eric Holder into workplace culture and harassment. Who's to blame for Uber's problems? Bloomberg Gadfly's Shira Ovide says it's all of us.
5) Go Ahead, Take the Afternoon Off

Summer Fridays are becoming popular again, Bloomberg's Rebecca Greenfield reports. More employers are formalizing the practice, allowing workers to slip out of the office early to beat the weekend traffic or enjoy happy hour in the sun. "It's not like people are really killing it at 4 p.m. on Friday afternoon in the middle of the summer," said Brian Kropp, an HR specialist at Corporate Executive Board, which found in a survey that more companies were offering the perk. Companies hope it will help them compete for the best talent, and it's cheaper than offering more cash or better health care.
Quotes from this Article
Before it's here, it's on the Bloomberg Terminal.
LEARN MORE