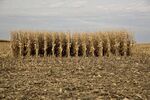 For many in the markets, commodities are considered a leading indicator of the economy. If true, then some tough times ahead may lie ahead. The Bloomberg Commodities Index of 32 raw materials fell to its lowest level Thursday since April 2016, before ending little changed. The benchmark is down 9.6 percent from its intraday high this year on Jan. 17.

Even if you don't subscribe to the theory that commodities can provide clues to future growth, there's little doubt that their impact on inflation -- or the lack of -- is real. That's important because the Federal Reserve just raised interest rates again on Wednesday, and said more increases are on the way, on the belief that the recent slowdown in inflation is transitory. "It's important not to overreact to a few readings, and data on inflation can be noisy," Fed Chair Janet Yellen told reporters in her press conference. Don't tell that to Kroger. The largest U.S. grocery-store chain saw its shares tumble as much 19.5 percent Thursday after it said lower food prices were hurting its profits, sparking a sell-off among its competitors, including Whole Foods and even Wal-Mart Stores.

The bond market is currently taking its cue from commodities. The breakeven rate on five-year U.S. government notes, or what traders expect the rate of inflation to be over the life of the securities, has collapsed to 1.58 percentage points, compared with about 2 percent as recently as early March. As a reminder, the Fed's goal is to get the inflation rate to 2 percent. "Until better data is forthcoming, the Treasury market will continue to trade as if the Fed is making a policy error," Morgan Stanley fixed-income strategists Matthew Hornbach and Guneet Dhingra, wrote in a research report.

TRUMP HAULS OUT HIS CRYSTAL BALL
President Donald Trump said Thursday that "some very good numbers" are coming soon on U.S. economic growth. If he's talking about the second quarter, he's probably right, though the figures are about six weeks away from publication, according to Bloomberg News' Scott Lanman. While the White House didn't immediately respond to a request to clarify Trump's comments, the median estimate among economists surveyed by Bloomberg News is for gross domestic product to expand at an annualized rate of 2.4 percent this quarter, compared with 1.2 percent in the first three months of the year. The Trump administration is aiming for 3 percent sustained growth within a few years. There's just one problem: The Citi Economic Surprise Index, which measures the data that exceed forecasts relative to those that miss, has fallen to its lowest level since May 2015. The pace of GDP gains was dragged down earlier this year by what many analysts saw as temporary factors such as warm weather that led to lower utility bills.

BANK OF ENGLAND SHOCKS POUND TRADERS
Here's proof that it pays to be a contrarian. After last week's U.K. election, options traders were more bearish on the pound than any other Group-of-10 currency as of the start of trading in London Thursday, according to Bloomberg News' John Ainger. It's safe to say those bears got a huge shock when three of the eight members of the Bank of England's Monetary Policy Committee voted to raise interest rates. Going into the meeting, traders only expected one member to vote for higher rates. Sterling promptly soared, rising against all of its major peers. It was the biggest division on rates in six years, and shows that unease about the currency-driven surge outweighs data that showed a weakening in wage growth, a plunge in retail sales and renewed political instability, according to Bloomberg News' Lucy Meakin. Swaps data indicate around a 50 percent probability of a rate hike by the end of 2018, up from 33 percent on Wednesday. Inflation could breach 3 percent by the fall, exceeding the central bank's 2 percent target, according to the summary published with the decision. 

THE ROBOTS ARE TAKING OVER STOCKS
That money you see sloshing around in the U.S. stock market? It belongs to the robots. At least, that's the picture emerging from a growing divergence between quantitative funds and discretionary managers, according to Bloomberg News' Dani Burger. Data compiled by Credit Suisse show that the gap between humans' and computers' gross exposure to U.S. equities is the widest ever. Nailing down the exact size of the quantitative space is almost impossible, though some estimates are as high as $500 billion, according to Burger. But determining whether this computer-driven force dictates market moves, as some suspect, is another matter. "The reason why that's important is that they're not going away," Mark Connors, global head of risk advisory at Credit Suisse, said. "Complexity isn't going to be rolled back." Quant is the fastest growing category on both Credit Suisse's prime brokerage platform and the broader universe.

THE RUSSIAN BEAR MARKET
Want more evidence that the so-called Trump Trade in markets is dead? Russian stocks were one of early beneficiaries of Trump's election victory, with the benchmark Micex Index rising 16.1 percent from Nov. 8 to a record high on Jan. 3 amid speculation Trump would seek to ease sanctions against the country. Today the Micex is in a bear market, falling 20 percent from that record high amid an escalating scandal in Washington over the Trump administration's alleged ties to the Kremlin. Congressional committees and the FBI are examining Russian interference in the election and whether there was any collusion with Trump's campaign. The U.S. Senate voted Thursday to toughen sanctions on Russia, and give Congress the power to review any attempt by Trump to unilaterally lift them, a rebuke of the president's suggestions that the U.S. should improve relations with the country, according to Bloomberg News' Terrence Dopp. "The hope that Russia's relationship with the West will improve is completely gone," Vladimir Vedeneev, chief investment officer at Raiffeisen Capital Asset Management in Moscow, told Bloomberg News' Ksenia Galouchko. Oh, and the price oil, a main Russian export, is cratering.

TEA LEAVES
It's been a hectic week for central bank watchers, with the Fed, BOE, Swiss National Bank all meeting -- and, it's not over yet. In a few hours the Bank of Japan will finish up a two-day monetary policy meeting with policy makers likely keeping both their targets for rates and asset purchases unchanged. The market consensus is that Japan will eventually remove its 80 trillion yen ($727 billion) annual bond buying target and cut its purchases of debt with more than 10 years to maturity. The only thing that's unclear is the timing, according to Bloomberg News' Chikako Mogi. The central bank will probably refrain from announcing official tapering just yet out of concern that doing so may send an unintentionally hawkish message to the markets, according the strategist at Bank of America. Since shifting focus in September from expanding the monetary base to pegging the 10-year yield around zero percent, Japan's central bank has adjusted the amount of debt it buys in market operations to respond to sharp rises or falls in bonds. Last week however, it took no action even as yields surged.
If you'd like to get The Daily Prophet in e-mail form, right in your inbox, please subscribe to this link. Thanks!
DON'T MISS
Can the Bond Market's Message Get Any Clearer?: Scott Dorf
Fed's Dovish Leanings Revealed in Mean Estimates: Jason Schenker
Economy of 2016 Weighs on 2018, 2020 Elections: Barry Ritholtz
Think Global? Invest Local, Bogle Advises Inadvisably: Gadfly
Looking for Summer Bond Market Love Under the Italian Sun: Gadfly
This column does not necessarily reflect the opinion of the editorial board or Bloomberg LP and its owners.
Before it's here, it's on the Bloomberg Terminal.
LEARN MORE