Swedish Opposition Threatens No-Confidence Vote Over Taxes
By and
Opposition wants to kill proposed aviation, small business tax

Government plans increases in budget presented in autumn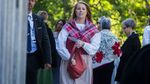 Sweden is heading for a budget showdown in the autumn as the nation prepares for a general election in 2018.
The four-party opposition Alliance on Thursday said it had agreed on a plan to cast a no-confidence motion against the government unless it pulls planned tax increases on aviation, small businesses and general incomes. Together with the anti-immigration Sweden Democrats, the opposition has a majority to thwart the plans of the Social Democratic-led minority government.
Commenting on Twitter, Center Party leader Annie Loof said the opposition will seek to stop the "harmful taxes on jobs and businesses" while Liberal Party leader, Jan Bjorklund, also tweeted that the government needs to cancel its planned tax hikes. The Sweden Democrats backed the move, its economic-policy spokesman Oscar Sjostedt told Swedish Radio.
"We take for granted that the government will be smart and pull back, otherwise we are ready to act through a no-confidence vote against the minister or through the budget process," Loof said.
SEB AB said there are now "several options" for how the political situation will play out.
"In case the government pursues its plans and keep the tax hikes and the Alliance this fall votes to scrap them, we don't see this as a setback severe enough for the government to resign," the bank said in a note. "There will be less than a year left before the next general election and government finances are strong enough to fund reforms even without these tax hikes."
While overseeing an economic boom, the government has increased income taxes to fund more generous sick leave and unemployment benefits and spend more on jobs programs. It plans to have boosted taxes by more than 40 billion kronor ($4.6 billion) by the end of 2018, after coming to power in late 2014, according to the Finance Ministry.
At a press briefing on Thursday, Finance Minister Magdalena Andersson said the government will continue with its budget work, calling the opposition's plan "unfortunate" and "irresponsible."
Not following the budget process risks causing "disorder in state finances" and "budget chaos," she said.
In an interview last month, Andersson said that there was not a need for "big" tax increases in the coming years, while arguing that the Swedish model shows that high taxes can go hand-in-hand with high employment and fast growth.
Read more here on Sweden's booming economy
The center-right opposition is arguing that Prime Minister Stefan Lofven is putting economic gains at risk and warns that generous benefits discourage people from working. According to the website Ekonomifakta, which is run by Sweden's largest employer organization, the highest marginal tax rate has again crept up, reaching about 70 percent, including payroll taxes.
Before it's here, it's on the Bloomberg Terminal.
LEARN MORE