Serb Leader Puts Independent on Path to Become First Openly Gay Premier
By and
Brnabic, political novice, runs Public Administration Ministry

Vucic pick set to be eastern Europe's first openly gay premier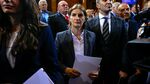 Serbian President Aleksandar Vucic picked an independent political novice to become eastern Europe's first openly gay prime minister as he seeks to balance the country's bid to join the European Union while keeping close ties with Russia.
Ana Brnabic, a U.S. and U.K.-educated technocrat who took the helm of Vucic's Public Administration Ministry last year, has dealt with international organizations and foreign investors but has held little influence. Critics say that, as head of the ruling Serbian Progressive Party, Vucic may use the nomination of the little-known official to shift power from the premiership to the nominally ceremonial presidency and rule from behind the scenes.
Brnabic said she would "consult" with the president on political as well as economic issues.
"It's him, after all, who provided directions for the government, which at this moment should have absolute continuity," she said in televised comments. "We need stability and continuity."

Vucic's choice is seen as a bold move in the conservative Balkan state, which has never had a female head of government and worked to improve minority rights after decades of neglect. It drew criticism from the country's pro-Russian nationalists and even some of Vucic's coalition partners, who blamed the president for giving into western pressure when choosing her for premier. While Luxembourg and Ireland have prime ministers in office who are gay, Brnabic is the first openly gay politician in eastern Europe to be named to the top government job.
Kosovo Independence
The choice "will win many friends for Serbia in the EU, helping the country's EU accession bid," Timothy Ash, senior strategist at Bluebay Asset Management, said in a note. "It shows the strength of Vucic's own domestic political position - given his three straight election wins now, and also likely his own confidence in the abilities of Brnabic."
Brnabic must win parliamentary approval to assume office, which, barring defections from the Progressive Party, is almost ensured because of the group's majority in the assembly. To push forward with EU entry, she must lead Serbia through talks to normalize relations with Kosovo, push through laws to overhaul the country's courts and reshape an economy hurt by hundreds of unprofitable state-owned companies.
"I have been working with dedication toward the goal of making Serbia a modern state, in which the state administration operates efficiently," Brnabic said via her spokeswoman after the nomination.
Vucic has vowed never to recognize Kosovo's independence, which it unilaterally declared in 2008, or join NATO, and he has advocated keeping traditionally strong ties with Russia. The government will also have to mend relations with Balkan neighbors, following accusations from Montenegro and Macedonia that Serbia had a role in attempts to encourage pro-Russian forces in the countries to derail their EU accession efforts.
Required Qualities
The new government will have to "preserve full discipline in spending and carry on with difficult reforms,'' as well as "improve Serbia' standing both in the West and in the East,''  Vucic told reporters on Thursday.
"She has all the qualities required for the job," Vucic said. "Some say I chose a puppet. I don't care what they say. I care what the citizens of Serbia say."
The yield on Serbia's benchmark dollar-denominated bonds maturing in 2021 rose 1 basis point to 3.17 percent from a record low reached on Thursday, according to data compiled by Bloomberg.
Brnabic, who worked for U.S.-backed non-governmental groups and a wind-farm developer in Serbia before joining the government, has spoken publicly about being gay in a country with strong Orthodox Christian traditions. Her choice sidelines Vucic's former foreign minister, Ivica Dacic, the leader of the junior coalition Socialist Party. Dacic has lobbied to keep strong ties with Russian President Vladimir Putin's government.
— With assistance by Boris Cerni
Before it's here, it's on the Bloomberg Terminal.
LEARN MORE