Record Hot Argentine Shares Have Room to Rally Post-MSCI Upgrade
By
MSCI is expected to announce emerging market status June 20

Middle East experiences show rout may follow initial euphoria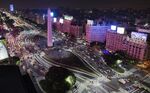 Steamy Argentine stocks may get even hotter if MSCI upgrades the country to emerging market status next week as expected.
The country is set to be reclassified after nine years in the frontier gauge, thanks to President Mauricio Macri's lifting of capital controls. The Merval benchmark index has been trading near a record in terms of price and market capitalization in anticipation. If announced as expected on June 20, the reclassification would be effective May 2018. Nine stocks, including state-owned oil company YPF SA and financial group Grupo Financiero Galicia SA, are thought likely to be added.
Stocks poised to be promoted from frontier status tend to rise an average 60 percent compared to emerging market peers in the 12 months after an MSCI Inc. reclassification is announced, according to a Morgan Stanley report. Qatar, the United Arab Emirates and Pakistan have each followed this trend.
"It's not like a country that's never been in the index before," said Geoffrey Dennis, the head of emerging market equity strategy at UBS Securities LLC, who expects Argentina will make up 0.4 percent of the index. "It's a market that people know well, another reason why it will be welcomed back into the emerging markets with open arms."

It's Not All Roses
Routs sometimes follow the initial euphoria, however, and investors should be wary. In Qatar and United Arab Emirates, shares fell an average of 14 percent in the six months following implementation, Morgan Stanley found. And since a Pakistan upgrade became effective June 1, stocks have dropped the most in eight years, dashing hopes that the market would attract large amounts of money.
MSCI peers traded at an average premium of 0.3 standard deviations to their 9-year  historical means when upgrades were announced, reaching a peak around implementation, according to the Morgan Stanley report. Argentina is trading at 1.9 standard deviations above its mean, likely because corporate earnings lagged under the Kirchner adminstrations' economic policies, the report said. The rise in valuations could mean a rout may come sooner than expected, said Walter Chiarvesio, head of equity research at Banco Santander Rio SA.
"Valuations are tight as the market has bet on a rise based on past experiences," Chiarvesio said from Buenos Aires. "We'll have to see if the market already fully anticipated the rise and a sell-off comes before expected."

Argentina's Not The Middle East
An Argentine sell-off could be lighter than for some of its Middle Eastern peers. Qatar and the United Arab Emirates may have been affected by falling oil prices, according to Oliver Bell, portfolio manager at T. Rowe Price Group Inc. Argentine stocks may continue to benefit from declining inflation and economic growth forecast at 2.8 percent by end of 2017.
"The markets tend to sell off on the other side of implementation, but it will depend on whether the valuations it reaches in the run-up and if the fundamentals of the country remain strong," Bell said from London.
Before it's here, it's on the Bloomberg Terminal.
LEARN MORE