Qatar Crisis Bashes Gulf Assets' Status as Middle East Haven
By
Change follows Saudi Arabia, allies, cutting ties with Qatar

Yields on Qatar bonds rose above those of Saudi Arabia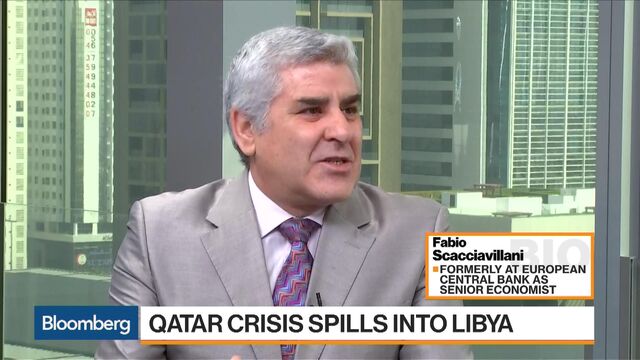 Gulf countries and their assets for years have been seen as a safe bet for investors in Middle Eastern emerging markets. Not anymore.
Their reputation as rich, commodity-oriented economies that could maintain high credit ratings has eroded as tension escalated in the region last week after Saudi Arabia and allies severed diplomatic and transport links with Qatar. The move to punish Qatar for its ties to Iran and extremist groups in the region surprised investors.
The average spread paid by governments in the Middle East to borrow in bond markets has since risen seven basis points, compared with a three basis point decline for emerging-market debt, according to JPMorgan Chase & Co. indexes. Yields on Qatar's $3.5 billion in bonds due 2026 rose to 3.5 last week, the highest level since March.

"For the region as a whole, my view has deteriorated moderately, because in a part of the world with a lot of inter- and intra-country tensions, a severe diplomatic conflict between Saudi Arabia and Qatar was generally viewed as unlikely," said Richard Segal, a London-based analyst at Manulife Asset Management. Outside of Qatar, weaker sovereigns such as Bahrain and Oman are seen as most exposed, he added.
Amid the crisis, the cost of protecting against a sovereign default for five years climbed not just for Qatar, but also for Egypt, Saudi Arabia, Dubai, Abu Dhabi and Bahrain.

Here are some comments from investors on how the conflict affects their views:
Segal, from Manulife, which oversees about $358 billion in assets:

"For Abu Dhabi, Dubai and Saudi Arabia, I see a minor increase in spreads as a result of these tensions, perhaps up to five basis points, because they will not have to make any concessions and these three will likely remain united
"For the Qatari sovereigns, a 30-35 basis-point repricing is now required to take into account the extra risk. For sub-sovereign and private borrowers, the rise in spreads could be 75-125 basis points
"I expect these differences of opinion to be resolved and spreads to decline again, but this could take 12-14 months
"Spreads have traded wide to fundamentals for a long time, suggesting that investors expected 'something' to happen, but not quite this"

Michael Bolliger, the Zurich-based head of emerging-market asset allocation at UBS Wealth Management, which oversees about $2.1 trillion for clients:

"We are monitoring the tensions closely and we think that this is more severe this time than on previous occasions. We maintain the view that the crisis will eventually be resolved via negotiations"
An adjustment in spreads "might be positive from an international point of view, in the sense that it could trigger growing interest, as our base case of a gradual easing of tensions starts to become visible
"We had a benign view before the crisis and decided to keep the overweight after the selloff; we see value in several names, not least due to strong credit fundamentals and their ability to withstand a period of pressure"

Simon Quijano-Evans, an emerging-market strategist at London-based Legal & General Investment Management Ltd., which oversees about $1.2 trillion of assets

The drop in oil prices prior to the current crisis had already affected somehow the way investors saw bonds from the region as a haven
"Political noise like that seen in the past week obviously begs a lot of questions as to what GCC countries want to do in general," he said, referring to the Gulf Cooperation Council. "That includes holding on to the pegs, which ultimately are a function of how much FX reserves a country has to cover any current account and budget deficit"
Spreads for GCC credit-default swaps are "generally trading above fair value levels implied by ratings. That would imply that the market is pricing in some downgrades in the future
"Qatar and U.A.E. stand out well here, while Bahrain and Oman are at the lower end of the spectrum and remain dependent on any support they get from fellow GCC countries"

Patrik Kauffmann, who helps manage $11 billion in assets at Solitaire Aquila Ltd. in Zurich

"As this crisis shows, the region is always subject to tensions. On the other hand, these bonds have been seen as safe heavens mainly due to the black gold these states sit on; in the case on Venezuela, we can see that, for fixed income investors, this is an incredible collateral
"With such events happening, you will always have sunshine investors hunting for more yield at relative high ratings, who will run away when it is starting to rain. These investors will put pressure on spreads until more value oriented investors will consider it as attractive enough to take exposure
"Investing in emerging markets is investing in political risk, which you need to take into account, and it mostly pays out."
Before it's here, it's on the Bloomberg Terminal.
LEARN MORE