politics
Comey, Snowden, Grandkids and Gaffes: Putin TV Gets Personal
By and
'Three Presidential Terms - Enough!' read one uncensored text

Putin says he just became a grandfather for the second time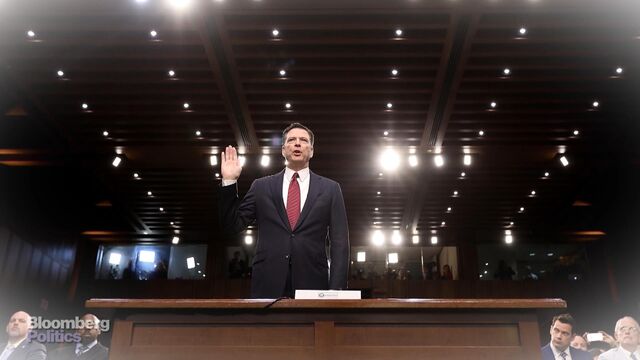 The Kremlin says Russians aren't interested in Donald Trump any more, but Vladimir Putin couldn't resist using his annual call-in TV show to poke the U.S. over a scandal that's transfixed Washington, offering fired FBI director James Comey the same asylum deal he gave Edward Snowden.
Comey's decision to release records of his talks with the U.S. president is "very strange," Putin said Thursday in response to a question from a member of his studio audience in Moscow. Putin said Russia is ready to offer Comey political asylum if he's prosecuted, adding that in leaking details of the talks, Comey was acting as "a human-rights activist" like Snowden.
Biting sarcasm is a favorite form of communication for the retired KGB colonel, particularly when it comes to the foreign policy of Russia's former Cold War foe. Putin said he didn't follow closely Comey's testimony last week to the Senate Intelligence Committee, one of several U.S. bodies probing Russia's interference in the 2016 elections, but he was clearly deeply informed.
An upbeat Putin kicked off the multi-hour event by urging Russians to be patient with an economy that's limping out of the longest recession of his 17-year rule, even as he acknowledged that millions have fallen into poverty. But the Russian leader, who'll turn 65 this year, appeared unfazed at the discontent over issues like corruption and falling wages that have led to the biggest protests in five years. Those demonstrations have largely been ignored by state media as Putin prepares to run for what would be a final term.
'Enough!'
Putin went on to shed rare light on his personal life, congratulate a new father in a maternity ward and vow to fix everything from low wages to trash heaps -- all while an apparent glitch allowed critical text messages from the public to be broadcast as he was addressing the nation.
"Three Presidential Terms -- Enough!" said one of the messages that appeared in a chat window on screen before the stream was halted, referring to next year's election, which Putin is widely predicted to win by a landslide.
Seemingly unaware of the apparently uncensored comments appearing on screen, the Russian president, who'll turn 65 this year, announced that he'd just become a grandfather again. He said he now has two grandchildren, both in Moscow, with the oldest in kindergarten. He declined to go into detail, saying he wants them to have an "ordinary life" and not grow up as royal offspring.
After almost two years of negative growth, the vast majority of the more than 1.6 million questions submitted for the show focused on pensions and other pocketbook issues rather than top global stories like Trump, the conflict in Ukraine and the war in Syria, the Kremlin said before Thursday's event.
'Last Hope'
The carefully scripted marathon has become a ritual for Putin since he first held it in 2001, with live satellite links to "ordinary Russians" around the country. But the president appeared to grow frustrated as complaints piled up about inept local governance.
In a typical exchange, a young teacher from the Siberian region of Irkutsk asked Putin why she was earning only 16,500 rubles (about $290) a month, complaining it's impossible to live on. The president said he was surprised, as the average wage for teachers in her region should be twice as much. 
"We'll look into your particular case," Putin said.
Similar questions were relayed to Putin via the TV anchor from a fireman in the south-eastern region of Saratov earning 8,000 rubles a month and a cosmodrome construction worker in the Far East making 10,000 rubles.
One elderly woman from the region that surrounds Moscow railed about a huge waste pit visible from space that was built 50 years ago. It's located close to kindergartens and health clinics but has never been properly treated, she said, adding that the stench is "unbearable" and that Putin is the "last hope."
"We have to do everything to help," Putin said.
'Very Strange'
The show had surreal moments. A father with a newborn child in the Bashkortorstan region was wheeled out for the TV cameras while a reporter was interviewing a doctor after the delivery. And on Olkhon Island in Lake Baikal, kids in folk costumes performed a special dance in Putin's honor.
Still, the bread-and-butter issues worrying Russians kept coming back to Putin.
Valentina, a woman from the flood-ravaged Stravropol region, said she hadn't received the aid she'd been promised and had to evacuate most of her family.
"It's very strange," Putin said.
Another caller, a young mother from Siberia, complained that local officials still hadn't provided promised housing after her village burned from wildfires in 2015. Putin said the federal government had transferred all the funding for the resettlement program and promised to have local authorities look into it.
"We will solve your problem," Putin said.
— With assistance by Stepan Kravchenko
(
Updates with caller questions under 'Last Hope' subhead.
)
Before it's here, it's on the Bloomberg Terminal.
LEARN MORE