Poloz Talk Leads Investors to Price in 2017 Rate Hike
By and
Majority of economists now predict hike no later than January

Shift comes on heels of Bank of Canada comments this week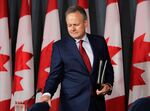 It's been a pivotal week for Bank of Canada watchers.
Investors and economists are recalibrating rate forecasts after the central bank's surprise talk of tightening this week signaled a policy move could come sooner rather than later.
A Bloomberg survey of 17 economists found the majority now project a rate increase this year. Six predict higher rates in October and two suggest a September hike. That's an about face from a week ago, when only two forecasters were projecting rates would rise in 2017.
Traders are also pricing in a full 25 basis point increase to the central bank's 0.5 percent benchmark interest rate by the December meeting, according to Bloomberg calculations on overnight index swaps.
The shift comes after Governor Stephen Poloz and his Senior Deputy Governor Carolyn Wilkins jolted markets in separate statements this week with explicit language about the prospect for higher rates, delivering a wake up call after investors had generally been reading a more cautious tone from policy makers.
"The tide generally has turned," said Benjamin Reitzes at BMO Capital Markets. He moved his call to January from April and said he may move it up again.

A tightening would be Canada's first since 2010 under Mark Carney. Poloz has only pulled the rate lever twice since he succeeded Carney in 2013, including a surprise cut in January 2015 which he called insurance against damage from oil prices that were collapsing at the time.
The debate now shifts to whether the central bank waits for its October meeting or moves in January -- where the plurality of calls are -- with the possibility of an increase in July or September also being priced in.
"Every decision is live in Canada,'' said Sebastien Lavoie, Montreal-based chief economist at Laurentian Bank Securities, who brought forward his own call to September from 2018.
While the Bank of Canada holds eight rate decisions every year, economists are anticipating it's more likely to make a move on the four dates that coincide with forecast revisions and a press conference. Those come every three months.
The next quarterly forecast is due July 12, followed by dates in October and January. Some economists are also predicting a rate move in between those dates in September and December. No economist surveyed by Bloomberg is projecting a July move.
Caught Off Guard
Swaps trading on Thursday showed a 46 percent chance of an increase in July, and a 75 percent chance of one by December. A week ago the odds were 5 percent and 27 percent.
This week's events caught the market off guard partly because the central bank had been trying so hard to talk down expectations earlier this year, even as Canada's economy emerged from the oil shock with the fastest quarterly growth in the Group of Seven.
Poloz and his counterparts repeatedly downplayed positive data, choosing instead to highlight labor market slack, along with sluggish business investment and exports.
Language did begin to change a couple of months ago. After releasing his latest monetary policy report in April, Poloz said he was "decidedly neutral" after talking about rate cuts in January. In their May rate decision, policy makers added new wording around monetary stimulus that was similar to language used just before the last rate move in July 2015.
The hawkish language ramped up this week when Wilkins said in a speech the bank "will be assessing whether all of the considerable monetary policy stimulus presently in place is still required." Poloz reinforced the message a day later in a CBC Radio interview when he said the two 2015 rate cuts have done their job and Canada now has "a much more diverse kind of recovery.''
"It wasn't a subtle message," Mark Chandler, head of fixed-income strategy in Toronto at RBC Capital Markets, said by phone from Toronto.
Some economists are interpreting this week's changes as a warning shot rather than a signal that a hike is imminent. 
"They want to do it as soon as the economy can withstand it, and that in my view is six to eight months out,'' said Frances Donald, senior economist at Manulife Asset Management in Toronto.
Before it's here, it's on the Bloomberg Terminal.
LEARN MORE