Macron Doctrine Looks Like Same Old France to Angry Italians
By , , and
President objects to Italy holding majority of shipyard stock

Dealmakers watching closely to see if France is changing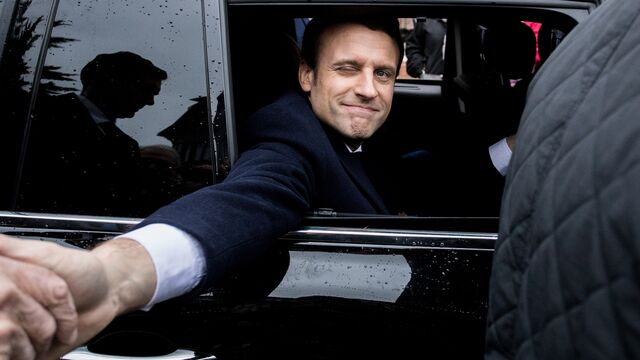 Traditional parties are crumbling and the parliament is on the brink of an unprecedented sea change, stirring hopes across Europe that Emmanuel Macron may be able to make good on his promises of revolution. But the French president is still interfering in foreign takeovers.
Nineteen days after he was swept to power, Macron stood in front of a brand-new cruise liner in Saint-Nazaire on the Atlantic coast. With the champagne on the ship's hull still sparkling in the sunshine, Macron told the workers in hard hats he was unhappy with the terms of their shipyard's sale to Trieste, Italy-based rival Fincantieri SpA.

In a move straight out of his predecessors' dirigiste playbook, the 39-year-old president said he was ordering a review of the deal and vowed to defend what he called a "strategic industry" -- politicians' code for a protectionist power play.
The move caused consternation in Italy and Macron's finance minister, Bruno Le Maire, was dispatched to Rome on June 5 to smooth things over with his counterparts. A press officer for the president said his decision was less a direct intervention than a nudge in the direction he'd like to see the deal go.
"The instinct in France, in the administration and among politicians, is still to support the domestic industry and maybe the new president is not immune to that instinct," said Guntram Wolff, director at the Brussels-based Bruegel think tank. "I don't expect him to be totally different from his predecessors."
Jobs Concerns
Macron was concerned that Fincantieri might join forces with CR Trieste to form a controlling stake in STX, potentially posing a threat to jobs in the Atlantic port town or passing on know-how to its operations in China. A month before Macron's presidential victory, Fincantieri agreed to buy 48 percent of STX from Korea's STX Offshore & Shipbuilding Co. Ltd. with about another 6 percent going to the banking foundation CR Trieste.
The broader risk though for the youngest French leader in two centuries is that he punctures the enthusiasm from European officials and international investors that greeted his election victory. He'll need the support of both those constituencies if he's to succeed with his plans to revamp the French economy. Not to mention the French companies like Vivendi SA that are looking to invest in Italy.
The chief executive of one major French company, who asked not to be named criticizing the president, said that Macron is ignoring the governance rules that apply to listed companies when it comes to managing their shareholdings. That may trigger a warning light for the investment community.
Bankers have been counting on a pickup in deal-flow from France to boost their fee revenue once Macron completes his takeover of the political power on Sunday, when his year-old party is set to win an overwhelming majority in the second round of parliamentary elections.
"Macron is going to be much more business friendly," Alasdair Warren, head of European corporate and investment banking at Deutsche Bank in London, said in an interview. "There is likely as a result to be more inbound and outbound merger activity coming from France."
Macron's Inbox
Unlike his predecessors, Macron is actually a professional deal maker.
Before entering politics he was an associate at Rothschild & Cie., helping steer Nestle SA through a $12 billion acquisition of Pfizer Inc.'s Wyeth infant nutrition business. As President Francois Hollande's economy minister, he managed a wide range of industrial files, notably defending the French state's influence at Renault SA with a 1.2 billion-euro investment to increase its stake.
He leaned on Renault this month as part of a government push to keep loss-making auto-parts maker GM&S Industry afloat. Le Maire called the CEOs of Renault and PSA, asking them to raise their orders with GM&S after Macron promised workers he'd try to save their jobs.
Multiple other files await Macron's attention.
He inherits from the previous government a pledge to reduce the state stake in both Renault and Orange SA. State-owned Electricite de France SA has to work out how to finance the upgrade of its nuclear plants with electricity prices depressed and Volvo AB is selling Renault Trucks Defense, which agreed to supply 3,700 tactical military vehicles to the French state in December.
Example to France
In October, the government will have to decide whether to take up its option to buy as much as 15 percent of French train-maker Alstom SA from Bouygues SA.
"Some of my predecessors believed the state has no role to play," Macron, then economy minister, said in February 2016, as he argued that the government should be a "strategist." "I believe in an industrial policy, but in a realistic, lucid and long-term way."
The STX shipyard holds a special place in Macron's economic and political vision.
A center for passenger-boat construction since the 19th century, by 2009 the yard's future was in jeopardy before unions and management struck a deal over layoffs. Now it has 2,300 employees and an order book that is full until the middle of the next decade. When he visited last month, he said that's an example that the rest of France can learn from.
To protect that operation, Macron wants the Trieste foundation out of the deal, potentially replaced by Switzerland's MSC Cruises SA and Miami-based Royal Caribbean Cruises Ltd, two of the shipyard's biggest customers, people familiar with his analysis said. MSC executives are due to meet with officials from the French economy minister this week.
Italian Economic Development Minister Carlo Calenda said his government won't accept that, and it wants the foundation's stake to go to an Italian institution, in line with the deal France signed in April.
"Macron is protecting French interests," Calenda said. "We can't think he would also protect Italy's."
— With assistance by Alessandra Migliaccio, Francois De Beaupuy, Manuel Baigorri, Gregory Viscusi, Tommaso Ebhardt, and Ruth David
Before it's here, it's on the Bloomberg Terminal.
LEARN MORE