News
Is American National Security at Risk From Imported Military Gear?
The key is to protect legitimate security interests without forcing taxpayers to pick up the tab for wasteful protectionism.
By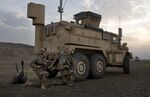 National security has been used to justify some pretty silly protectionism in the United States. The Berry Amendment, to pick an egregious example, prohibits the Defense Department from importing any kind of clothing,  including "outerwear, headwear, underwear, nightwear, footwear, hosiery, handwear, belts, badges, and insignia." The International Trade Administration, an arm of the Commerce Dept., implausibly insists that the Berry Amendment "has been critical to maintaining the safety and security of our armed forces."
Sometimes, though, imports really can imperil national security. For Pentagon planners, the nightmare scenario is a war with China in which the foe stops supplying critical components to the U.S. military—or triggers malware embedded in Chinese-made computer chips that cripples missiles and fighter jets. To guard against that, the Defense Department does its best to prevent the use of Chinese microelectronics in military gear.
The key is to protect legitimate security interests without forcing taxpayers to pick up the tab for wasteful protectionism.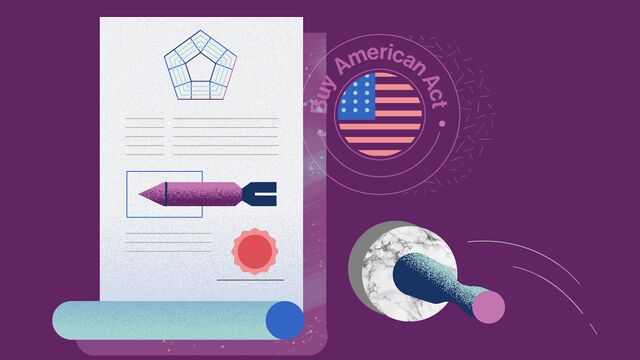 Senator Chris Murphy, a first-term Democrat from Connecticut, has leaned on the jobs argument for his 21st Century Buy American Act, which he says would close "loopholes" that the Pentagon has used to get out of  Buy American rules, acquiring parts from other countries that are available in the U.S. He's also seeking audits of the Pentagon's purchasing practices.
"The United States has shipped money and jobs overseas—a whopping $187 billion in just the last 9 years alone," he said in a 2016 press release.
In an interview on June 14, Murphy said national security is a key concern as well, saying, "If our defense supply chain becomes too internationalized, it puts us at risk." He said that the U.S. had to scramble for replacement parts when a European company refused to supply parts for a weapons system because it morally objected to the war in Iraq. A Murphy spokesman, Chris Harris, did not immediately respond to a request for details.
The Buy American Act of 1933 requires the federal government to prefer domestic sources where possible. Imports from countries that have free-trade agreements with the U.S. are mostly exempted from the law. But there's a national security exception that has the effect of reinstating some buy-American requirements. It gets even more complicated than that: Canada, the United Kingdom, and Australia are considered domestic for purposes of acquisition practices under the National Defense Authorization Act.
The upshot is that the U.S. does import a lot of foreign parts for U.S. weapons systems. The Pentagon outright embraced globalization in the development of  the F-35 fighter jet, whose prime contractor is Lockheed Martin. Eight other countries partnered in its development and are supplying parts for it: Australia, Canada, Denmark, Italy, the Netherlands, Norway, Turkey, and the U.K.
Murphy says the Pentagon has gone too far. But some military experts disagree.
"Buy America is a great bumper sticker and political slogan, but it is bad economic and security policy," the Heritage Foundation said in a report in March. "Buy America, Again. Sigh" was the headline on an article in April in Breaking Defense, an online journal.
An example of Buy American misfiring is what happened to Nammo, a Norwegian defense contractor. Raytheon turned to Nammo to supply the motors for some air-to-air missiles after the ones  supplied by a U.S. contractor malfunctioned in the cold temperatures that were designed to simulate high-altitude conditions, according to a Heritage Foundation report. Nammo succeeded. But Buy American rules appeared to take the work away from Nammo "by requiring that all tactical missile programs use at least one domestic rocket motor supplier," Heritage wrote.

The Nammo case shows how Buy American can be "counterproductive," Frank Kendall, who was undersecretary of defense for acquisition, technology, and logistics in the Obama Administration, said in a June 14 interview. That doesn't mean Kendall is cool with any kind of foreign part. He said it's easy to imagine the Chinese sabotaging American gear by somehow getting booby-trapped chips into the supply chain.
"I can't talk very much about this, because it quickly gets into classified areas," he said. But he added, "It's a present danger."
Murphy is continuing to push his 21st Century Buy American Act this session. He defeated Linda McMahon, the professional wrestling impresario, in 2012 to win a Senate seat after serving three terms in the House. He has used his seat on the Appropriations Committee to "promote procurement of world-class national defense products made in the state," according to his website.
Defense contractors with lots of employees in the state include United Technologies Corp. and General Dynamics Corp., whose Electric Boat unit in Groton makes submarines. Murphy says this is not a "parochial issue," adding, "There are defense-contracting jobs in every state." 
Before it's here, it's on the Bloomberg Terminal.
LEARN MORE