In Brief
In Brief: Nomura Verdict, Bitcoin Sinks, Trump Targets Drug Prices
What you may have missed in global business and finance.
By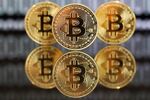 A former Nomura Holdings Inc. trader was found guilty of conspiring to lie to clients about mortgage-bond prices, while another was cleared of all charges in a verdict that highlights the challenge of policing fraud in the market. Michael Gramins was convicted of conspiracy and cleared of six fraud counts, while the jury was hung on two other charges. Tyler Peters was acquitted on all nine charges. Jurors cleared a third trader, Ross Shapiro, of eight counts of fraud, but deadlocked on one.
 
Bitcoin sank as much as 19 percent, putting the digital currency on pace for its worst week since January 2015. Volatility has climbed following a record-setting surge in the price: After flirting with $3,000 on Monday, the cryptocurrency has retreated to as low as $2,076.16 in intraday trading. Other digital coins are also falling. The declines coincide with a slide in technology stocks that began after a report from Goldman Sachs Group Inc. warned that low volatility in the biggest tech stocks may be blinding investors to cyclicality, regulation, and other risks.
 
Jeff Bezos may get his own chatroom. San Francisco-based startup Slack has been approached about a potential takeover by Amazon.com Inc. and other tech companies, people familiar with the matter said. A deal could value Slack at $9 billion or more, they said, not a bad advance from last year, when a funding round gave it a valuation of $3.8 billion.
 
President Donald Trump's administration is preparing an executive order aimed at lowering U.S. drug costs, according to people familiar with the matter. The move, on a campaign issue that's been largely left out of Republican legislative efforts in Congress, could come within weeks.
 
The Bank of England stood pat on U.K. interest rates, but it jolted investors and economists with the closeness of the vote. The Monetary Policy Committee was split 5-3, its biggest division in six years, as Michael Saunders and Ian McCafferty joined Kristin Forbes in demanding a hike in the main rate to 0.5 percent. The shift comes as inflation surges and wage growth slows against the backdrop of an election that's clouded the political and economic horizon.
Before it's here, it's on the Bloomberg Terminal.
LEARN MORE