QuickTake Q&A
How Open Is Cuba After Obama's Cuba Opening?: QuickTake Q&A
By
As U.S. president, Barack Obama struck a deal in 2014 to re-establish ties to Cuba after half a century, arguing that opening up the Communist island-state to American tourism and commerce would help undermine one-party rule. His opponents said he was throwing a lifeline to a dictatorship. Two and a half years later, Americans are freer to travel and sell to Cuba, but its government carries on pretty much as before. The Cuban Thaw, as some call it, faced limits: Restrained by a trade embargo enshrined in law, Obama could only use executive powers to ease related regulations in areas such as travel, telecommunications and financial services. Now President Donald Trump says Obama's initiative isn't the right way to secure liberty for the Cuban people.
1. How much has travel increased?

Cuba saw a record 4 million tourists arrive last year from around the globe. That's thanks in part to the increase in travel from the U.S. under Obama's relaxed travel rules and the resumption of scheduled commercial flights from a handful of East Coast cities. Roughly 285,000 U.S. citizens visited the island, a 74 percent increase from 2015, according to Cuba's Foreign Ministry. Cuban officials expect at least 4.2 million tourists this year.
2. Is travel to Cuba easy now?

While the Obama administration made it easier for Americans to visit Cuba, the decades-old economic embargo still prohibits travel to the island outside of 12 exempt categories, like cultural, religious or educational visits. Travel industry specialists say the continuing restrictions deter some would-be visitors. Some bargain hunters have been put off by rapid price inflation for state-run hotels, taxis and other traveler services sparked by the sudden interest in Cuba. Another drag: Very few American credit cards work in Cuba because the banks that issue them don't have relationships with Cuban counterparts that can process the transactions.
3. Has U.S.-Cuba trade increased?
Yes. The trade embargo on Cuba permits the sale of some goods, mostly agricultural products such as poultry, soybeans and corn. U.S. companies exported about $317 million worth of goods to Cuba last year, a 37 percent increase from 2015, according to the International Monetary Fund. That was despite the fact that Cuba's overall two-way trade fell last year to $9.7 billion, the lowest level since 2010, according to IMF data. The drop is partially explained by the country's first economic recession in more than two decades and declining oil imports from Venezuela, as that country's economy collapses. China and the European Union are Cuba's biggest trading partners.
4. Is there more U.S. investment in Cuba?
U.S. agencies don't publish data on foreign investment in Cuba, since the vast majority of U.S. firms aren't allowed to invest there under the trade embargo. The Obama administration did grant licenses to some businesses to establish a physical presence there. Some have been successful. A Marriott International subsidiary opened the Four Points by Sheraton hotel in Havana through a partnership with a state-owned company. In May, Google became the first foreign internet provider to set up servers in the country. Other enterprises have struggled, such as an Alabama company that dropped plans to build tractors on the island. Cuban officials have set a goal of attracting $2 billion a year in foreign investments. In November, the foreign trade minister said Cuba was getting less than half that.
5. What could increase trade and investment?

Ending the trade embargo could unleash pent-up demand from U.S. companies wanting to do business in a market they've been shut out of for decades. The Peterson Institute for International Economics estimates that fully normalizing U.S.-Cuba relations could result in U.S. exports to Cuba of $6 billion a year and Cuban exports to the U.S. of $7 billion. Foreign investment from the U.S. could reach $2 billion a year. Yet even fully normalized relations would not make Cuba an easy place for investment. Laws that limit foreign ownership, a complicated dual-currency system (there are pesos and convertible pesos), and tight government controls are among the biggest hurdles for international companies. The World Bank doesn't even rank the island on its ease of doing business index.
6. Could the embargo be lifted?

It was codified in 1996 as part of the Cuban Liberty and Democratic Solidarity Act. Under that law, the embargo can be lifted only if the U.S. president certifies to Congress that certain conditions in Cuba have changed, notably that it has a democratically elected government. Alternatively, Congress could amend or repeal the act.
7. Is Cuba moving toward democratically elected governance?

No. The Communist Party has said it's not willing to compromise when it comes to the way it governs. Its leadership has already picked a successor -- First Vice President Miguel Diaz-Canel -- in advance of President Raul Castro's announced plan to step down next year. In National Assembly elections, voters are asked to either support or reject a single candidate, approved by the Communist party, for each seat.
8. Might Congress repeal the embargo law?
It's unlikely, even though repeal could be popular with the U.S. public. Since 2015, overall American opinion toward Cuba, as measured by Gallup, has been more favorable (51 percent as last measured) than unfavorable (46 percent). In a 2016 New York Times poll, most of those surveyed supported ending the embargo. However, an old guard of well-organized and wealthy Cuban émigrés to the U.S. who oppose legitimizing Cuba's government traditionally have had influence over U.S. politics beyond their numbers. That's because in 10 of the last 11 presidential elections, the candidate who won Florida won the presidency. Before Congress could consider lifting the embargo, the Cuban government would be required to settle billions of dollars to companies and individuals whose homes and businesses were expropriated after the Cuban revolution. Cuban and U.S. negotiators have made little progress on settling those claims.
9. Has Cuba become more democratic or less?
Neither in a significant way. Human Rights Watch says the government continues to limit freedom of expression, restrict access to outside information and strictly control the media. The Communist Party has repeatedly said it has no plans to change the system of governing or to do away with the one-party political structure. The Cuban Commission for Human Rights and National Reconciliation reports a recent increase in the number of arbitrary detentions for political reasons and the number of political prisoners, which it said was 140 in April.
The Reference Shelf
Watch Next: Trump Said to Limit Business and Travel With Cuba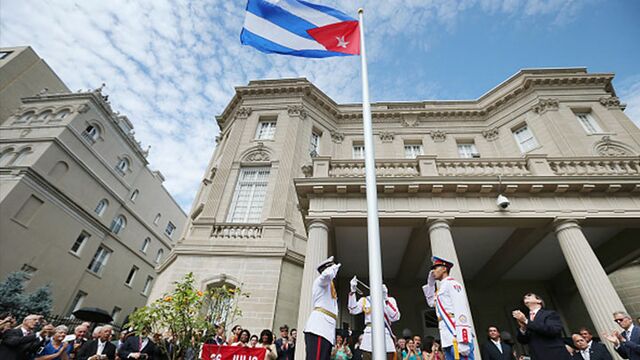 Before it's here, it's on the Bloomberg Terminal.
LEARN MORE