German President Warns Against Russian Meddling in Fall Election
By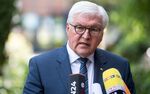 German President Frank-Walter Steinmeier said any Russian interference in his country's election in September would weaken already strained ties between the two countries, according to the Frankfurter Allgemeine Zeitung.
"If Moscow were to exert any influence over the election, then the reserve of common ties would by necessity be diminished," Steinmeier told the newspaper in an interview. "That would be damaging for both sides."
Steinmeier, a Social Democrat whose post is mostly ceremonial, said Europe and Russia had confronted 25 years of increasing estrangement as Russia "seeks its identity rather in opposition to Europe and the West than in common purpose."
German authorities are bracing for potential cyberattacks ahead of the Sept. 24 election, in which Chancellor Angela Merkel will seek a fourth term.
Before it's here, it's on the Bloomberg Terminal.
LEARN MORE