The Chinese Labor Activist Who Wants Ivanka Trump to 'Take Responsibility'
By
Li Qiang investigated factories supplying shoes for her brand

He says Trump has yet to respond after activists were detained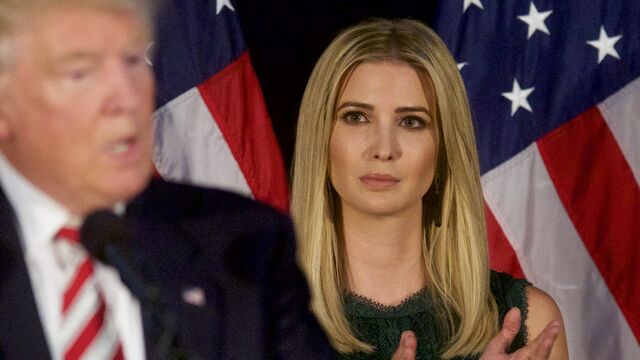 When Ivanka Trump announced in March she would take a job at the White House advising her father, labor-rights advocate Li Qiang had found his highest-profile target yet.
By homing in on factories that supply Ivanka Trump-branded products, the founder of New York-based China Labor Watch thought the daughter of newly elected President Donald Trump could become a potent illustration of the problems facing Chinese workers like those employed by one of her suppliers -- whom he said are often overworked, underpaid and unprotected.

Li's group had begun to look for possible Ivanka Trump suppliers the previous June when her father was campaigning for the presidency. By the time Ivanka Trump made her announcement, Li's group had spoken to more than 100 workers around China to identify Huajian Group, which supplied Ivanka Trump shoes under license to Marc Fisher Footwear.
In March, Li sent investigators to what he said turned out to be one of the worst facilities among more than 600 his group has probed, with some employees working 18 hours, six days a week, for about a dollar an hour. Management also fined workers for being late or calling in sick, Li said.
He wrote to Ivanka Trump personally in April, urging her to take action in a letter sent to the White House. A month later, Li lost contact with the three investigators. They had been held by police, the first time in the group's 17 years that its activists had faced criminal detention.
"I feel a bit lost," said Li, 45. "It's hard to understand why the Chinese government wanted to lock them up."
Labor Conditions
Though the Huajian factory in the southeastern province of Jiangxi makes shoes for other well-known companies, Li said he focused on Ivanka Trump's brand because he believes her actions could force changes in labor conditions in China and pave the way for other brands to seek improvements. Li said he is not seeking responses from Huajian or Marc Fisher about his findings as he wants Trump "to take responsibility."
From a 500-square-foot office near Herald Square, Li seeks out labor abuses in the country he fled two decades ago. He sends contractors, activists and sometimes volunteers to get production-line jobs, where they interview workers, take pictures and videos. Li's group has documented child labor, inadequate safety training, excessive overtime, poor living conditions, fines for tardiness and late wages.
"Having an independent party to investigate factory conditions is invaluable," said Aaron Halegua, a consultant on labor issues and research fellow at New York University's School of Law. "Otherwise, there's often no way to corroborate or challenge the claims that brands make about their supply chain."
The group has had major successes. Violations at Apple Inc. supplier Pegatron Corp. led the tech giant to work with the manufacturer to improve factory conditions. Samsung Electronics Co. reviewed some of its Chinese factories after abuses at suppliers were exposed.
Exposing Abuses
In China Labor Watch's latest case, Huajian denied that employees were underpaid or forced to work excessive hours. "Western media have been misled by China Labor Watch," which has "undertaken illegal actions in China to gain twisted information, in order to profit," the company said in a statement.
Li said his group does not seek to profit from any of its probes, including the Ivanka Trump-related investigations.
"Our goal was to use the information to expose labor abuses at the factory," Li said. "Huajian has twisted the fact and tried to hide the truth of the breaches."
Shanya Perera, spokeswoman for Marc Fisher, declined to comment. Abigail Klem, the Ivanka Trump brand president, has said in an e-mailed statement to Bloomberg News that its licensed products haven't been produced at the factory since March, and that licensees are "required to operate within strict social compliance regulations." A spokeswoman for Ivanka Trump didn't respond to requests for comment.
Her 'Responsibility'
To avoid conflicts of interest, Ivanka Trump stepped away from overseeing her brand after she started advising her father.

Li said she must address the matter nonetheless. He said he wrote to her again on June 6, enclosing a flash drive of data and images from the Chinese factory and urging her to help secure the release of the three investigators. He has received no response from her so far.
"She has the responsibility to put things right," he said.
Li has been a labor advocate since the 1990s. The son of construction workers from Sichuan province, he saw his parents treated unfairly by their company, including a refusal to pay his mother's hospital bills. The 18-year-old studied law even as he worked as a carpenter.
When the Communist Party started to reform state-owned enterprises in the late 1990s to improve productivity, many unprofitable factories were closed and millions lost their jobs. Li helped some workers recover wages and wrote letters to leaders, including then-President Jiang Zemin in protest. He also was an intermediary to foreign reporters.
Fleeing China
His activities caught the attention of police, and to avoid arrest, he fled to Guangdong province. Cities in the southern region were fast becoming manufacturing bases for the world's clothes, toys and consumer goods.
He found even worse abuses there: Fifteen-hour workdays, no welfare benefits and firings were common, he said. So he started investigating undercover -- applying for jobs at factories and reporting their practices to foreign media.
When local authorities began questioning relatives, he fled China using a fake passport. He said he entered the U.S. legally in 2000 with a valid visa.
China Labor Watch -- whose formal staff now consists of Li, one other full-time worker and interns -- relies on government grants, sponsors and private donations. The nonprofit has received on average about $250,000 annually in funding over the past five years, according to its tax returns.
Li has built up a network on Chinese social media of thousands of workers who can track down the factories that make goods for particular Western brands. Partners in China often hand out flyers to workers to educate them about labor rights. Some of those employees become Li's eyes and ears.
Approaching Brands
Li, a father of two toddlers, targets companies big enough to get media attention that could force improvements at their suppliers. Sometimes, he resolves issues by simply contacting the brands. He examines about 30 factories a year, and sends investigators into about 10 to 15. In some cases, he writes a public report, especially if the brand refuses to respond, he said.
The case of Ivanka Trump's brand is different. With his investigators -- Hua Haifeng, Su Heng and Li Zhao -- in custody after being accused of illegally using eavesdropping equipment, he has concentrated on trying to get them released. He has suspended all investigative projects out of fear that other workers may be put in danger.
The U.S. State Department has called for the release of the trio, and White House spokesman Sean Spicer said this month that the U.S. would "exert the proper diplomatic pressure."
China's foreign ministry spokeswoman Hua Chunying said the case was an "internal matter."
Li said the wife of one of the detained activists is also facing pressure from Chinese authorities. On Thursday, he released a blog post in which she says authorities tried to persuade her to "cut ties" with her husband and describes the emotional stress of being closely monitored by police. The wife confirmed she wrote the post, which is now blocked with a message that says it "violates rules."
Li said that if he had known his workers might be arrested, he would have planned differently. Still, Li said he will continue fighting for workers' rights until he finds someone with "a sense of mission" who can take over his role. He gets as many as 100 requests a month for help.
"Until I find a person with the same kind of passion, I will have to soldier on, because for many workers, it's a matter of survival," he said.
— With assistance by Rachel Chang, and Lindsey Rupp
Before it's here, it's on the Bloomberg Terminal.
LEARN MORE