Citigroup's Corbat Reassures Audience: No Tweeting at 3 a.m.
By
CEO earns laughs at Japan Society dinner with Perella, Kennedy

Corbat addresses trade under Trump and breaks a sake barrel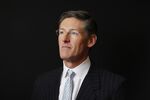 Besides lending his athletic prowess to a traditional sake-barrel breaking at the Japan Society's annual dinner, Michael Corbat, chief executive officer of Citigroup, fielded questions from the master of ceremonies.
Some of the topics covered: Chinese banks ("already operating around the world and they're quite smart," Corbat said), Japanese banks ("fierce competitors"), and a recent conversation he had with the largest banana importer in the U.S.
"He said to me, 'as soon as you show me a banana I can buy in the United States, I'll stop importing them,'" Corbat said.
Corbat was making the point that trade would stay strong and global even with President Donald Trump's talk of America First and a border adjustment tax.

Trump was apparently still on his mind a few minutes later, when the master of ceremonies, Dennis Berman of the Wall Street Journal, asked Corbat to describe Citigroup in the form of a tweet.
"One, I don't tweet, and I certainly don't tweet at 3 a.m.," Corbat said, prompting a round of applause in the ballroom at the New York Hilton Midtown, the same hotel where Trump held his election night party.
Corbat, in an interview after his remarks, said he doesn't do social media, doesn't read tweets and has no plans to start a Twitter account. He did, however, know Citigroup's handle (@citi).
He's not the only bank CEO who doesn't have an individual Twitter account. JPMorgan's Jamie Dimon, Bank of America's Brian Moynihan, Wells Fargo's Tim Sloan and Morgan Stanley's James Gorman seem to be Twitter-less too, which makes @LloydBlankfein, the account of Goldman Sachs's CEO, all the more exceptional. Blankfein's first tweet went out June 1 with the hashtag #ParisAgreement. His second tweet, about U.S. leadership, incorporated emoji. And he's since posted about a trip to China and Jeff Immelt's run at General Electric.
On stage, Corbat indicated he's perfectly comfortable with email, a format in which his communications are "pretty short."
So how would he describe Citigroup? "Progressive, technologically advanced." And, since its restructuring after the financial crisis, focused on being a bank rather than a wider financial conglomerate. As for the future, Corbat said the world needs all kinds of banks -- including community and regional banks -- but maybe not so many branches: while his 92-year-old father views going to a branch as a social event, his kids have no interest. The banking industry will see branch networks shrink by at least 50 percent over the next 10 years, he said.
With technology replacing people, Corbat was asked if artificial intelligence would change the function of a CEO. "Can't be done," Corbat said.
The dinner drew 730 guests, raised $1.5 million and marked the Japan Society's 110th year of working to enhance the relationship between the people of the U.S. and Japan. Proceeds support programs at the organization's home near the United Nations, where an exhibition of photographer Hiroshi Sugimoto's work will go up in October.
Corbat broke the sake barrel with the event's honorees, former U.S. Ambassador to Japan Caroline Kennedy and Kikkoman Corp. Chairman Yuzaburo Mogi, the man who helped popularize Japanese soy sauce in the U.S. Then, the Citigroup chief sat down to dinner with Joseph Perella, who recalled a dish he has only eaten when he made his first trip to Japan: chicken sashimi. Perella was elected the Japan Society's chairman on June 1, succeeding Wilbur Ross, who joined Trump's cabinet as Commerce secretary. Citigroup's Alan MacDonald was dinner chairman.
Quotes from this Article
Before it's here, it's on the Bloomberg Terminal.
LEARN MORE