Best Return Potential Comes From Worst Canadian Mining Performer
By
Gold producer has slumped 18% this year, creating 78% upside

News out of Greece continues to hold key for unlocking value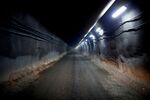 The worst performance among major Canadian mining stocks is creating the biggest potential return, as regulatory and deal uncertainties make Eldorado Gold Corp. cheap compared with peers.
The Vancouver-based company has slumped 18 percent this year, the most among Canadian miners with a market value of at least C$1 billion. Analysts tracked by Bloomberg expect the stock to reach C$6.26 in 12 months on average, representing a 78 percent return, the most among the 22 peers.

Weighing on Eldorado shares this year is the Greek government's decision to seek arbitration against compliance for a mine owned by its Hellas Gold unit. Any resolution to the dispute probably would fuel a recovery, Eight Capital analyst Josh Wolfson wrote this week. He said Greek elections in 2019 could "eclipse current opposition and could become a key catalyst for the stock."
Other factors preventing Eldorado from following gold prices higher this year have included concern that the company will have to increase its offer to buy explorer Integra Gold Corp. as well as the company's exclusion from the S&P/Toronto Stock Exchange 60.
Eldorado's under-performance means its enterprise value-to-estimated earnings ratios are trading at the biggest discount to its five-year historical average when compared to peers. The stock has fallen behind so much that its ratio to gold price is returning to January's record-low levels.
News out of Greece will continue to guide share-price movements, even though the country contributes only about 40 percent to its corporate net-asset-valuation, CIBC analyst Cosmos Chiu wrote
"While we do not have additional detail on potential arbitration, we believe this is an opportunity for us to once again demonstrate how we are meeting all legal requirements and working to the highest environmental and social standards," Eldorado's Vice-President of Investor Relations & Corporate Communications Krista Muhr told Bloomberg in an email.
Olympias Phase Two is in commissioning and the Skouries development is moving ahead, Muhr said. "Greece needs jobs, development, growth, export and tax revenue. Our investments will contribute to all of these areas for decades to come."
Eldorado's was cut to speculative buy from buy at Canaccord on June 15, attributing to "heightened non-quantifiable" political risk from Greece. Ultimately, the company probably will be successful in mitigating the political issues but near-term risk remains elevated, Canaccord analyst Tony Lesiak wrote.
Before it's here, it's on the Bloomberg Terminal.
LEARN MORE