Australia's Week in Charts: Aussie Surges With Jobs as Iron, Yields Slide
By
Economic data tops estimates by most since 2016 in Australia

Aussie dollar heads for best month since start of this year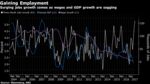 The Aussie dollar's best rally since January gathered pace as Thursday's labor market report showed the strongest three-month jobs growth in more than a decade.
There have been numerous surges over the past two years, however, and only time will tell if the momentum continues. A vanishing yield gap, deteriorating business and consumer sentiment and declines in iron-ore prices all argue against long-term strength for the world's fifth-most traded currency.
One explanation for the latest gains could be found in the economy's relative strength. Australian data releases are beating the admittedly grim forecasts of economists by the most since early 2016, while the U.S. is falling short of the much rosier projections that had been put forward for the world's largest economy.
Speaking of data surprises, how's the above for a mixed picture? Australia added 141,100 jobs across March, April and May -- the fastest pace since 2004 -- and yet the first quarter of the year saw the weakest annual economic expansion in almost eight years and record-low wages growth.

The bond market though is a lot less sanguine than the currency side of things. Aussie yields slid even in the face of last year's surge in prices for the key export iron ore. Sure enough, the steel-making material has dropped back to be more in line with the yield picture.
That premium is set to shrink more now that the Federal Reserve has signaled it will keep raising interest rates beyond the latest move on Wednesday. The gap between Australian and U.S. policy rates has shrunk to a mere 37.5 basis points, the least since 2001 -- in turn helping narrow the gap in longer-term yields.

Growth concerns amid spots of strength help explain why the Reserve Bank of Australia looks to be well and truly on hold at a record-low 1.5 percent -- unwilling to raise rates and spur further currency gains but reluctant to lower them and expand fears of a housing bubble. Maybe that's why RBA Governor Philip Lowe has been much wordier than his predecessor (and former boss) Glenn Stevens, in policy statements.
Quotes from this Article
Before it's here, it's on the Bloomberg Terminal.
LEARN MORE