Leaked Footage Shows Australian PM Mocking Donald Trump
By
Turnbull called his impression 'affectionately light-hearted'

The two leaders reaffirmed ties last month after rocky start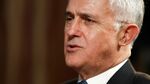 Australian Prime Minister Malcolm Turnbull risks a fresh rift with Donald Trump after leaked footage showed him parodying the president and alluding to a U.S. probe into election campaign links with Russia.
In a closed-door speech Wednesday night to journalists and lawmakers at Australia's equivalent of the White House correspondents dinner, Turnbull imitated Trump speaking about online opinion polls: "They are so easy to win. I have this Russian guy...believe me, it's true, it's true."
While journalists were told the speech was not for reporting, a local television network broadcast audio portions on Thursday of Turnbull's comments to the backdrop of audience laughter.
Trump has faced scrutiny over allegations his campaign colluded with Russia to influence the last U.S. election. A special counsel plans to interview top U.S. intelligence officials about whether Trump sought their help to get the FBI to back off a probe into former national security adviser Michael Flynn, according to three people familiar with the inquiry.
Turnbull on Thursday played down his Trump impression, calling it "affectionately light-hearted." Still, the two had a rocky start after Trump complained about a promise by the prior U.S. administration to resettle refugees held by Australia in offshore detention centers. The leaders smoothed things over at a meeting in the U.S. in May.
"It was good natured and the brunt of my jokes was myself," Turnbull said Thursday in a radio interview, rejecting the notion his speech was at Trump's expense. He said he was disappointed the comments were leaked.
'Winning So Much'
Relations between the U.S. and its military ally Australia sank after Trump blasted the refugee resettlement plan negotiated by Barack Obama, calling it a "dumb deal" in a late-night tweet. That came after the Washington Post reported that Trump berated Turnbull in a phone call and "abruptly ended" their conversation.
After a face-to-face meeting in New York last month, Trump described Australia and the U.S. "old friends and really natural partners."
In the speech on Wednesday night, Turnbull said his May summit with Trump "was beautiful; it was the most beautiful putting-me-at-ease ever."
The Australian leader also poked fun at his own low ratings. Turnbull has struggled to win over voters since coming to power and won last July's election by a one-seat margin. His Liberal-National coalition trails the Labor opposition by six percentage points on a two-party-preferred measure, according to a Newspoll published in late May.
"The Donald and I, we are winning and winning in the polls," Turnbull said, imitating Trump's manner of speaking. "We are winning so much. We are winning like we have never won before. We are winning in the polls. We are, we are. Not the fake polls, not the fake polls."
"We're winning in the real polls," he said. "You know, the online polls. They are so easy to win. I know that, did you know that? I kind of know that."
Before it's here, it's on the Bloomberg Terminal.
LEARN MORE