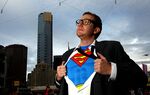 A great CFO can fix a lot of things. Alexion Pharmaceuticals Inc. may not be one of them.
Shares of the New Haven, Connecticut, biotech rose as much as 9 percent on Wednesday, on news that well-regarded Biogen Inc. CFO Paul Clancy is jumping to Alexion. That stock move looks a little less impressive, though, against its longer-term performance: It's down 43 percent from its 2015 highs, as the company has wrestled with controversy over its sales practices for its top drug. 
It's tempting to view Clancy's move as a vote of confidence in Alexion. Geoffrey Porges, an analyst at Leerink Partners, in a research note called Clancy a "careful steward of capital" and a "doughty protector of margins," descriptions that would make any financial professional blush. Clancy can be these things for Alexion and help it head off further disasters.. 
But a CFO can't solve Alexion's biggest problem: its over-reliance on one medicine, rare-blood-disorder treatment Soliris. 

Ninety-two percent of Alexion's 2016 revenue came from Soliris. That made Alexion far and away more dependent on one medicine than any other biopharma firm with a market valuation of at least $20 billion. (Alexion is worth about $27 billion, down from more than $40 billion in 2015.) Analysts expect Soliris will provide 77 percent of Alexion's revenue in 2020, meaning the company will likely remain the king of product concentration for years to come. 

That 2020 estimate is softened by including forecasts for sales of Kanuma, a rare-disease drug Alexion acquired with its $7.9 billion purchase of Synageva in 2015. Alexion once projected Kanuma could hit $1 billion in sales, making it a blockbuster. But the drug managed less than $29 million in sales in 2016, and new CEO Ludwig Hantson at a conference on Tuesday suggested Alexion might write it off. That Synageva deal looks like one of the all-time great biotech acquisition flops. And Kanuma's failure would leave Alexion even more dependent on Soliris.
That's worrisome, considering Soliris's current difficulties. The aggressive tactics Alexion has used to sell it -- documented extensively in a report from Bloomberg Businessweek -- cost the company its previous leadership and leave it with legal risk. Toning those tactics down could hurt sales significantly; Soliris can cost as much as $700,000 a year, meaning every new patient really matters.  
Meanwhile, Omeros Corp. and other companies are working on Soliris competitors. And the drug will lose patent protection in some parts of the world in 2020, leading to more competition from "biosimilars," generic drugs made with living cells instead of chemicals.

Alexion is far behind on finding new sources of revenue. Synageva's drugs will never justify their purchase price, and Alexion's pipeline of drugs in development is thin. Hantson on Tuesday said the quality of the firm's pipeline doesn't justify its R&D spending, and that he's only excited about one in-development medicine -- a Soliris successor that won't hit the market for years. 
Alexion has more than enough cash flow to rejuvenate its research under a new R&D head or with acquisitions. But those cash flows won't last forever, and Alexion's own experience shows how difficult it is to buy or develop blockbuster medicines. 
A new CFO can bring discipline to the process. But finding a genuine Soliris replacement in the next four years, much less returning Alexion to its glory days, will require something more like magic. 
Before it's here, it's on the Bloomberg Terminal.
LEARN MORE