politics
After Gunman's Attack, Congress Seeks Unity in Baseball Game
By and
Emotions high for Republicans-versus-Democrats charity game

'A different game,' as lawmakers remember those wounded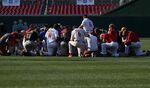 Thirty-six hours after a gunman's attack on Republican lawmakers at their baseball practice, GOP and Democratic teams played their annual charity game Thursday night, determined to show unity.
Played almost every year since 1909, this year's congressional contest began with a moving tribute to the victims of the shooting, as well as the Capitol Police officers who helped take out the gunman. More than twice the usual number of tickets were sold amid an outpouring of support for House Majority Whip Steve Scalise of Louisiana, who was critically wounded, and three others injured in the attack.
The game, played in the home ballpark of the Washington Nationals professional baseball team, drew almost 25,000 people. Democrats won 11 to 2. Afterwards, they gave Republican team manager Joe Barton of Texas the trophy to put in Scalise's office until he is able to return to work.

"It'll sure be a different game without him there," said Representative Cedric Richmond, the starting pitcher for the Democratic team and a longtime friend of Scalise from their days as political adversaries in the Louisiana state legislature.
Scalise was still in critical condition Thursday night after another surgery, "but has improved in the last 24 hours," according to a statement from the MedStar Washington Hospital Center. He'll need more surgery "and will be in the hospital for some time," according to the medical center's statement.
President Donald Trump, who visited Scalise Wednesday night at the Washington hospital where he remains in critical condition, didn't attend, but recorded a video message played before the game.
"By playing tonight, you are showing the world that we will not be intimidated by threats, acts of violence or assaults on our democracy," he told the crowd.
Capitol Police Special Agent David Bailey, who was wounded when he and another officer engaged in a shootout with the gunman, hobbled onto the field on crutches to throw out the first pitch.
Republicans and Democrats prayed together on the field before the game. And there was a moment of silence for the victims of Wednesday's shootings.
At the end of the introductions for the Republican team, the stadium announcer also boomed the name Steve Scalise, leading to a standing ovation. The JumboTron showed a fan with a sign "Scalise Strong!"
Keeping the game going had become an important statement for lawmakers -- an emotional declaration that such attacks and threats of violence won't force them to hide or change their routines. Scalise's colleagues took the field wearing Louisiana State University baseball caps as a tribute to his alma mater.
"I know that he would want the game to be played," said Richmond.
More coverage: Trump Says GOP Leader 'In Some Trouble' After Gunshot Wound
More than 20,000 tickets had been sold and more than $1 million raised for charities, including the Capitol Police Memorial Fund, which was added as a beneficiary after the shooting.
Democratic team manager, Mike Doyle, a House member from Pennsylvania, said on Bloomberg Television that normally 8,000 to 9,000 tickets are sold.
"There'll be a lot of emotion at this game," Doyle said.
He said he talked with Barton after the shooting and they agreed that "we shouldn't let incidents like this or people like this change our routine or how we live our lives."  
The gunman died from injuries sustained in a shootout with police.
C-SPAN provided coverage, and additional national television, radio and other media outlets tuned in.
"Tonight, we're all Steve Scalise," Nancy Pelosi, the Democratic leader, said in a joint interview with House Speaker Paul Ryan on CNN.
'Advils on the Half-Hour'
"It seems like you are going to have every camera in the country there, even internationally," said Republican starting pitcher Mark Walker of North Carolina. "So, I'll be taking Advils on the half-hour and trying not to hyperventilate too much."
Even with lawmakers' determination for baseball bipartisanship, they say competitiveness remains. The Republican and Democratic teams each sought to take the upper hand in their record of 39 wins each, with one tie.
"The competition is still there, but the energy around the game has just exploded," Walker said.
Richmond and others in both parties say Scalise will be at the top of their minds. 
"I'll miss the banter with him back and forth," Richmond said of the heckling they usually exchange from opposing dugouts. 
(
Updates with final score, attendance in third paragraph.
)
Before it's here, it's on the Bloomberg Terminal.
LEARN MORE