Your Evening Briefing
Bloomberg News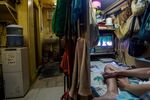 The evening briefing will soon be available in your inbox every day. Sign up here.

In a city where a supermarket worker feeds her family of four rice soup three times a day until her paycheck comes in, a single car parking space has just sold for $664,300. Welcome to Hong Kong, a city of soaring skyscrapers and glittering luxury boutiques that's become perhaps the epitome of income inequality in the developed world. As billionaires thrive, living standards lag behind rising costs and the housing market remains the least affordable in the world. It's no wonder some Hong Kongers have begun to contemplate what was once unthinkable: whether folks across the border in mainland China might be better off. — Alex Millson

The global economy is rebounding. But there's one big problem. There's a dark cloud building behind the world's best period of synchronous growth among developed and emerging economies this decade, that in time could rain down volatility in global markets. The problem is that emerging markets haven't yet been able to develop enough assets that investors are willing to hold as stores of value and collateral when times get tough.

There are some things you really shouldn't say. When Uber's employees gathered to discuss sweeping changes to curb sexism in the company, board member Arianna Huffington explained the presence of a woman on the board was likely to attract other women; to which billionaire fellow-board member David Bonderman remarked that it actually meant "more talking," according to a person who heard the exchange. And that was the end of Bonderman, who resigned his board membership this morning.

Singapore leader's brother quits the city over a simmering family feud. Lee Hsien Loong's younger brother Lee Hsien Yang said he feels compelled to leave the city state, and that he and his sister "do not trust" the prime minister and have "lost confidence in him." The dispute started when their father, Lee Kuan Yew, died two years ago. Leader Lee Hsien Loong said his siblings' statement has hurt their father's legacy and that "any such differences should stay in the family."

This central bank is embracing its flighty millennial workers. The Philippines is home to one of the world's youngest labor forces, presenting special challenges to the nation's central bank. Some 44 percent of its staff belong to the Millennial generation, broadly defined as age 37 or under. But a young workforce can be demanding. As well as paying competitive salaries, the bank has a large gym and offers classes, including yoga, fishing and zumba.

Scientists are looking in the toilet for new cancer treatments. New research suggests a link between the trillions of bugs that inhabit the bowels and the effectiveness of immune therapies —  drugs that tap the body's defenses to fight tumors. That has spurred companies worldwide to start delving into patients' stools in search of a better understanding of microbes in the digestive system.

The surprising things we predicted about work just a decade ago. Is your working life better or worse than you thought it would be a decade ago? Chances are you're a bit hazy on your recollections of 2007. But if you're like most people, things haven't turned out quite as well as you predicted back then.

Before it's here, it's on the Bloomberg Terminal.
LEARN MORE