Your Evening Briefing
Here are today's top stories
Bloomberg News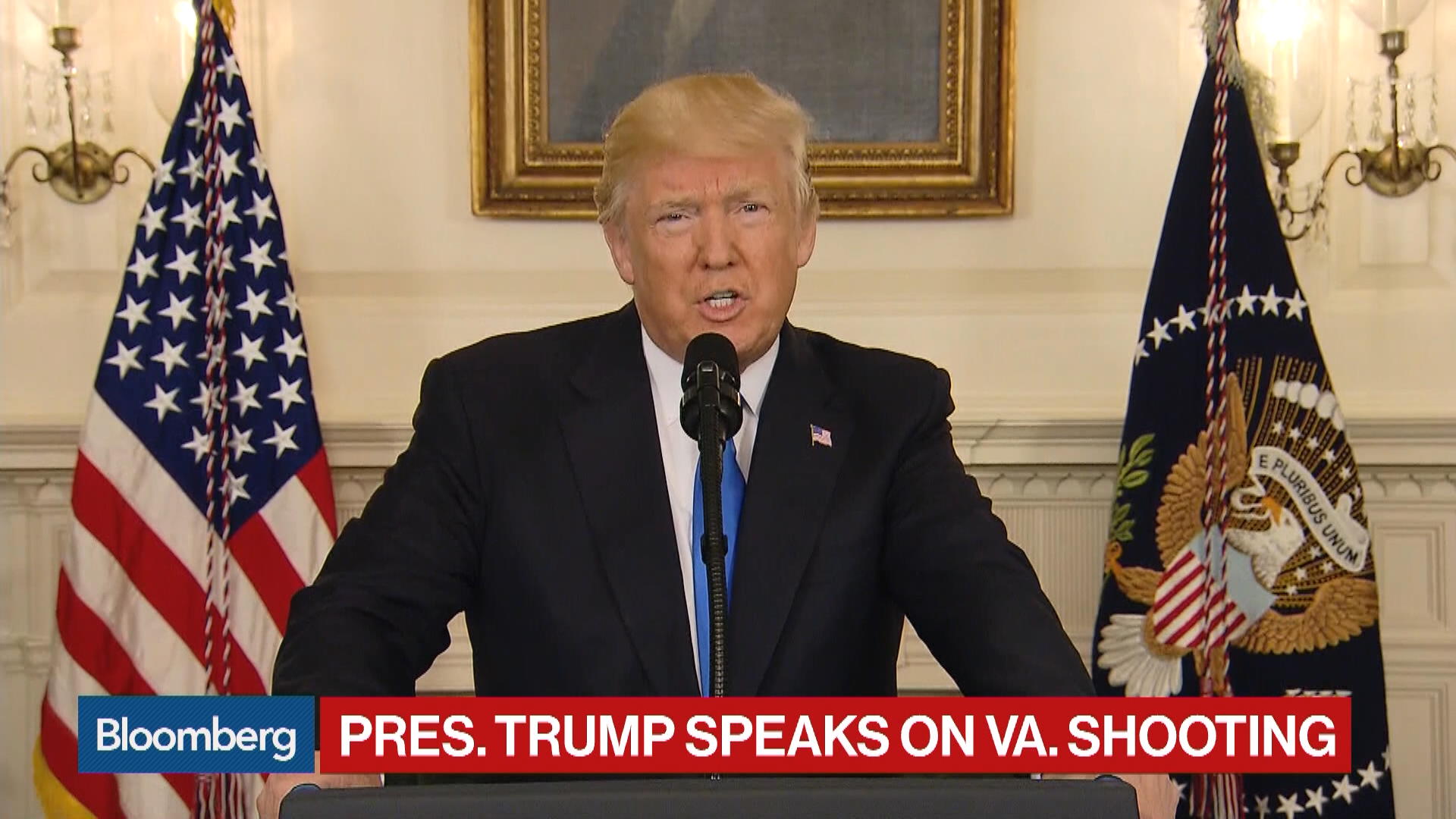 Want to receive this post in your inbox every afternoon? Sign up here.

The presence of Capitol Police officers at a congressional baseball team practice has been credited with saving the lives of a number of people after a shooter opened fire at a Virginia park early Wednesday. "The field was basically a killing field," Senator Rand Paul, who witnessed the attack, told reporters. The FBI is now investigating the motives of the gunman. The attack has renewed pushes for increased security measures to protect members of Congress.—Katie Robertson
The third-highest ranked House Republican and at least four others were injured in the shooting in Alexandria, Virginia. House Majority Whip Steve Scalise was shot in the hip and is in a stable condition, according to his office. Two U.S. officials identified the gunman as James T. Hodgkinson, 66, of Belleville, Illinois. He later died from injuries sustained in a shootout with police.
The Fed raises rates, and maintains its forecast for one more hike this year. It's the third interest-rate hike in six months. A statement from the Fed struck a careful balance between showing resolve to continue tightening in response to falling unemployment while acknowledging the persistence of unexpectedly low inflation this year.

President Trump wants to hide your complaints about Wall Street. The Treasury recommends blocking public access to one million reports of alleged abuse by lenders, student loan firms, and debt collectors. Consumer advocates say the complaint database has had a big impact on the financial industry, but it ranks among the industry's top grievances about post-financial crisis reforms. 
Don't want to end up like Uber's Travis Kalanick? Learn to lead, or risk losing the company you founded. Executive coaches say that's the lesson startup founders can take from the embattled CEO, who is taking a leave of absence following a torrent of workplace scandals. The goal of professional leadership help, for coaches and for investors, is to save founders from themselves before it's too late.

It's not OK to send naked pictures on LinkedIn. A lawsuit against SunTrust, filed this week in Los Angeles, shows the unique problems employers face when it comes to the professional networking platform. A finance professional alleges a banker who was trying to recruit her used his corporate LinkedIn account to send sexual messages and NSFW photos. The suit argues that the employer is responsible for employee behavior on the platform.

How much should you save for retirement? Many Americans are getting the wrong impression from their employers' 401(k) plans, which often default workers into saving far too little. Bloomberg contacted more than a dozen retirement experts, who outlined seven rules to help you save as thoughtfully and effectively as possible.

One of the world's great cheeses might be going extinct. It's the second-most-popular cheese in France. But genuine Camembert, which bears a special stamp denoting its provenance, might soon disappear. Today, only four of the 360 million wheels produced annually—just a little over one percent—are the real deal, and as small farms are scooped up by the big guys, the number is rapidly dwindling.

 
Before it's here, it's on the Bloomberg Terminal.
LEARN MORE