Trump's Environment Rollbacks Won't Stick, Obama's EPA Head Says
By
Gina McCarthy says reversals won't withstand legal scrutiny

Top roles at EPA still left unfilled, jeopardizing work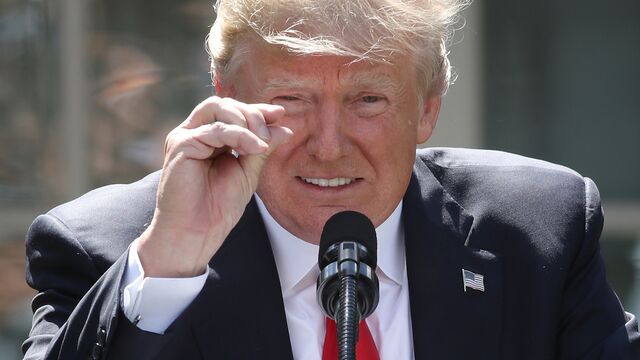 President Donald Trump's moves to roll back Obama-era environmental and climate regulations won't stick, according to his predecessor's environmental chief.
Neither the science nor the law is on Trump's side as the administration moves to repeal rules governing water pollution, carbon-dioxide emissions from power plants and methane leaks from oil and gas wells, said Gina McCarthy, who led the Environmental Protection Agency for nearly four years under former President Barack Obama.
"I don't think this administration understands how to do a rule in a robust way," McCarthy said in a meeting with Bloomberg News reporters and editors in Washington. "Nothing that they do here is going to stand up to science scrutiny or legal scrutiny."
Her successor, EPA Administrator Scott Pruitt, is moving to reorient the agency by getting rid of a series of rules without offering a replacements. That approach might not survive in the courts -- and could lead to a reversal under the next administration.
"I don't think they've shown themselves to be particularly enamored with the laws that they are required to implement," McCarthy said. "This administration is going so far to one side that it will spring back."
McCarthy's comments come as Trump and Pruitt prepare rules delaying or reversing a suite of regulations. On Tuesday, the EPA proposed a two-year delay in Obama-era mandates governing methane emissions from oil and gas wells. The agency also delayed enforcement of a rule forcing refiners and chemical plants to better manage risks to avoid explosions or terrorist attacks. And the White House Office of Management and Budget is reviewing an EPA plan to repeal Obama's Clean Power Plan, his signature effort to pare greenhouse gas emissions from the electricity sector.
Read More: Trump Sweeps Away Climate Rules Vowing 'New Energy Revolution'
Environmentalists vowed to fight those regulatory reversals in court. Whether they prevail will hinge on how well the EPA justifies its moves and Pruitt faces challenges building up a robust administrative record to support the rule repeals without top deputies on board. More than a dozen top EPA positions require Senate confirmation; so far, only Pruitt has been cleared.
Those top officials help guide career staff at the agency in writing new rules and building the records to support them, according to McCarthy.
Still, the Trump administration's rapid moves to reverse Obama's environmental policies show the vulnerability of the former president's approach relying mostly on executive authority to impose the mandates, instead of getting explicit directives from Congress.
"President Obama and his administration are discovering that what can be done through executive fiat in a rulemaking without legislation by Congress can be undone by executive fiat and rulemaking," said Myron Ebell, director of the Center for Energy and Environment at the Competitive Enterprise Institute and a former member of Trump's transition team. 
Ebell said he had "every confidence" the Trump administration would succeed in reversing Obama's environmental legacy, in part because the efforts are being led by Pruitt, who mounted legal challenges of many of the same rules he is now undoing in his previous role as Oklahoma attorney general.
"There is a good reason why Scott Pruitt was picked to be EPA administrator over other candidates," Ebell said. "He is a very sharp lawyer and he is connected to some very sharp lawyers."
— With assistance by Ari Natter
Before it's here, it's on the Bloomberg Terminal.
LEARN MORE