Singapore Premier Lee's Brother to Leave City Amid Family Feud
By
Prime Minister Lee Hsien Loong 'disappointed' over statement

Lee Hsien Yang says not a criticism of Singapore government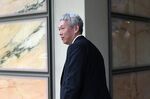 A family feud involving the children of late Singapore leader Lee Kuan Yew burst back into public view on Wednesday as one of his sons said he now felt "compelled" to leave the country.
Prime Minister Lee Hsien Loong's two younger siblings posted a joint six-page statement on Facebook saying they had "lost confidence" in him and no longer trusted him.
"It is with a very heavy heart that I will leave Singapore for the foreseeable future," Lee Hsien Yang wrote in the statement issued with his sister Lee Wei Ling. "I have no desire to leave. Hsien Loong is the only reason for my departure."
The prime minister issued a statement denying allegations made by his siblings and said he regretted their public comments, which escalate a dispute that has simmered over the estate of their father since his March 2015 death.
Lee Kuan Yew was prime minister from 1959 to 1990, turning Singapore into Southeast Asia's richest nation by opening the island to foreign investors. He ran a tightly controlled state that emphasized incorruptibility and stability. Lee stepped down from the cabinet in 2011.
"I am very disappointed that my siblings have chosen to issue a statement publicizing private family matters," Prime Minister Lee said in an emailed statement on Wednesday. "While siblings may have differences, I believe that any such differences should stay in the family."
Ruling Party
The tensions have largely stayed removed from domestic politics and the ruling People's Action Party led by Lee has a strong grip on power. It boosted its share of the popular vote in the last election in September 2015 to nearly 70 percent -- the highest since 2001 -- and secured 83 of 89 seats up for grabs.
Lee Hsien Yang, who's chairman of the Civil Aviation Authority of Singapore and special adviser to private-equity firm General Atlantic LLC, and Lee Wei Ling said in the statement they were "disturbed by the character" and "personal agenda" of their brother, but added their remarks were "by no means a criticism of the government."
Still, "it's almost as if this document was calculated to resonate with some of the criticisms that are made of the government from those people who have long had a problem with the PAP," said Garry Rodan, a professor of politics at Murdoch University's Asia Research Centre in Perth. "The way that it's written is meant to have a political impact," said Rodan, who has authored books including "The Political Economy of Singapore's Industrialization."
"The potential for Lee Hsien Loong's critics and political opponents to use these statements is real," he said.
Relocating Overseas
Lee Hsien Yang, 59, separately said in an interview on Wednesday he had no political agenda in releasing the statement with his sister, neither did he have any desire to join politics.
"The statement was written with 100 percent care and is defensible," he said. "Our goal is limited: we just want the truth to be known."
The younger Lee said he's weighing various locations for his move. "If he's no longer in a position of power, I would reconsider my position," he said of his brother.
Prime Minister Lee, 65, has said he doesn't want to stay in office beyond the age of 70 and has been grooming a group of younger ministers.
'Absurd Claim'
Lee Hsien Yang and Lee Wei Ling's statement has hurt their father's legacy, the prime minister said. He denied an "absurd claim" he harbored political ambitions for his son. Lee, who became Singapore's third prime minister in 2004, said he would consider the issue further after he returns from an overseas trip with his family later this month.
Confidence in the government and leadership is unlikely to be immediately affected by the spat, according to Eugene Tan, a political analyst and former nominated member of parliament.
"Singaporeans may feel conflicted given the siblings' statement wasn't made on a whim," Tan said. "But they generally have trust in the system and a prime minister who is personally popular. They see it as an unfortunate family feud."
Six months after the elder Lee died, his two younger children filed a legal challenge against the government relating to an agreement over the custody and use of certain interviews by their father.
The late Lee's house, located on the fringe of the Orchard Road shopping belt, has also been the subject of dispute. Lee had said he wanted his home demolished after his death. There have been calls to convert the home into a museum and as a memorial to him.
In December 2015, Lee Hsien Loong said he recused himself from all government decisions involving the house. The younger Lee siblings said Wednesday they were informed in July that a ministerial committee had been set up to consider options for the property.
The Prime Minister's Office in a second statement issued later on Wednesday said Lee's views were sought by the committee in his personal capacity and he had not been involved in cabinet discussions related to the house.
— With assistance by Jason Scott, and Linus Chua
Before it's here, it's on the Bloomberg Terminal.
LEARN MORE