Pound Unlikely to Get BOE Boost as 'Smooth' Brexit Doubts Build
By
Hung parliament could prompt shift to dovish stance: Mizuho

AllianzGI 'mildly constructive' on gilts due to U.K. outlook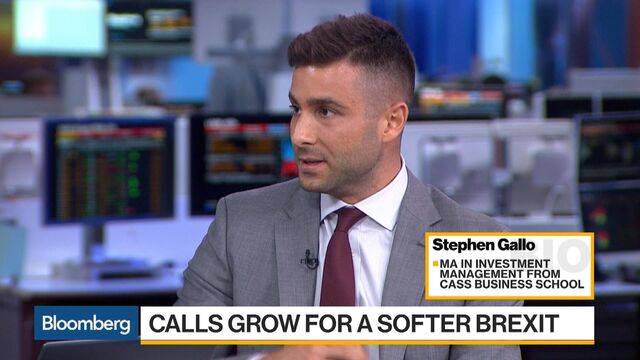 The pound is unlikely to find any support from this week's Bank of England meeting, according to analysts and fund managers, with officials likely to refrain from signaling tighter monetary policy amid slowing wage growth and political disorder in the U.K.
Even with inflation at a four-year high, analysts remain doubtful that Governor Mark Carney will talk up prospects of higher interest rates, like he did in May, given the inconclusive result of the June 8 election and intensifying squeeze on consumers. Last month the central bank said its rate outlook was based on the assumption of a smooth Brexit.
With the possibility of a weaker government facing the European Union at the negotiating table, the BOE might find it tougher to reiterate that view, thus making it harder for the pound and gilt yields to rise, analysts said.

The central bank will leave its benchmark rate unchanged at 0.25 percent, according to all 48 economists in a Bloomberg survey
In the May meeting, of the eight Monetary Policy Committee members only Kristin Forbes dissented, voting for an immediate increase
Markets see a near 45% chance of a rate increase by December 2018, MPC-dated Sonia show

They're also pricing in around a 24% chance of a 25-basis-point rate increase by mid-2018, which is in contrast to the near-50 percent chance seen as recently as in March

GBP/USD at $1.2732, down almost 2 percent since the election, and yield on 10-year gilts at 1.02%, down 2 bps from June 8
Below is a compilation of investors' and analysts' expectations for the meeting, and the outlook for gilts and the pound:
Mizuho Bank (Sireen Harajli, Neil Jones)
The uncertainty "cast by a hung parliament will drive the Bank of England to shift toward a more dovish stance," according to FX analyst Harajli
Expects BOE policy will remain steady this year with the possibility of easing in 2018
Speculators, who had been trimming GBP short positions over past weeks might reverse that position due to the election results "leaving GBP vulnerable to more downside risk as GBP shorts are re-built," Harajli says, predicting sterling will reach $1.22 by year-end
Wednesday's wage numbers mean the MPC could shift back to a "unanimous dovish 8-0 stance" this week or in the next meeting, according to Jones
Allianz Global Investors (Mike Riddell, money manager)
The BOE assumption "of a smooth transition is now looking even more unlikely" after the election
Over the medium to long term Riddell says he is "mildly constructive" on gilts as the risks to the U.K. economic outlook "are to the downside" 
Riddell was bullish gilts going into the BOE meeting in May and says the central bank is likely to "be more dovish than the market seems to expect" 
The difference between now and back in May is that the "market is not pricing in a series of rate hikes and gilt yields are a lot lower"

Riddell still has "a slightly bullish position but it is not a high conviction view as markets have already moved a little" in gilts
JPMorgan Asset Management (Iain Stealey, senior fixed-income portfolio manager)
Expects the BOE to look through what it calls "transitory inflation" which it may see as "almost a tax on the consumer so they are not going to want to do anything"
Stealey says he prefers to stick to their neutral gilts stance as they "would prefer to let the dust to settle"
"It's very hard to buy gilts at 1% on the 10-year, likewise if the BOE aren't moving rates higher, it is very difficult to build a case to be short gilts when you have all this uncertainty going on"
"Bottom line is no one really knows what the election from last week created and the BOE has no more insight than we have"
Commerzbank (Thu Lan Nguyen, FX strategist)
The BOE "will broadly stick to their latest assessment and at the most point out that political risks have increased"
There may be some "that hope that the BOE signals a higher likelihood of imminent rate hikes following the latest inflation figures. However, I think that this is counterweighted by the heightened political risk" 
So there could be some that may be "disappointed by the fact that the BOE remains cautious, which could put some pressure on pound"
With the election outcome and impending EU negotiations "the probability of a negative scenario for the British economy has increased, which will force BOE to keep a more expansionary monetary policy for some time," she says
Predicts sterling will fall to $1.21 by the end of this year but says it could revise that number to the upside if "the new government seeks a softer Brexit"
Before it's here, it's on the Bloomberg Terminal.
LEARN MORE